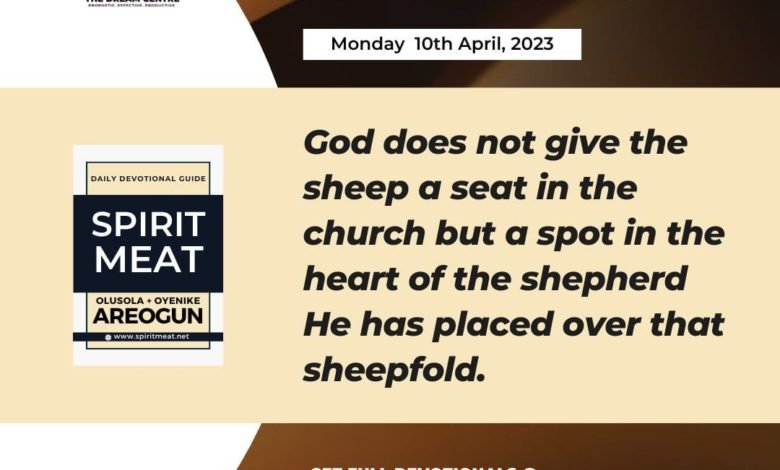 As a sheep, you are to live under pastoral supervision as you are placed by God. God is not settled until the issue of your divine placement is established. You may find yourself moving from one church to another until you locate the place where God wants you to be. God is the One that 'sets' us in church. Once you find your place, you must settle there and begin to grow.
If God will require the account of His flock at the hand of the shepherds, then it means He will talk to the shepherds about the flock. If I will be accountable for somebody's life, God must talk to me about the person. God does not give the sheep a seat in the church but a spot in the heart of the shepherd He has placed over that sheepfold. This confirms the place of responsibility that a shepherd stands before God regarding his flock. Sometimes when a flock scatters, it is not always a result of the devil's attack. Such may be the result of God scattering the flock because a shepherd has ceased doing the work of the shepherd.
As people come to church, they come with different assets and liabilities.
As a sheep, you also have certain responsibilities within the sheepfold to ensure that what God wants to be done in that place is not hindered by your behaviour.
You should be careful that you are not affecting the faith of someone else by your actions towards the things of God. Don't posture in such a way that can affect the response of a young sheep that needs all the training that may not mean anything to you because you already have gone through them.
PRAYER: Dear Lord, help me to respond correctly as a sheep within the local assembly You have set me in Jesus' name. Amen!
BIBLE IN A YEAR:
Deuteronomy 34:1-Joshua2:24; Luke 13:22-14:6; Psalm 79:1-13; Proverbs 12:26

(Please note that you can follow this months devotional on YouVersion's The Bible App using this link: http://bible.us/r/9XT. Thank you!) 
————————————————————
www.lifeoasisinternationalchurch.org
www.soundcloud.com/reverendareogun
www.dciradio.org
YouTube Channel- Sola Areogun Ministries
+2348037252124
#SpiritMeat
#ReverendAreogun
————————————————————

Copyright ©️ 2023
The general public is hereby informed that exclusive copyright
subsists in this work and therefore any attempt to reproduce,
copy, distribute to public for commercial purposes, publish any
translation of the work, make any film in respect of the work,
make an adaptation of the work, either the whole or substantial
part of the work, either in its original form or in any form
recognisably derived from the original is an infringement on the
right of the author and subject to litigation unless and except
the author has officially and clearly authorized the said person
or persons or the author is clearly acknowledged in the work.