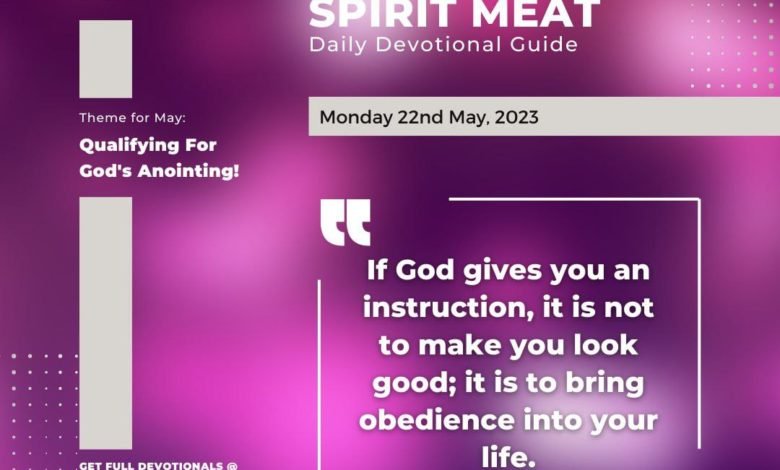 God anoints obedience. Naaman is a case study in obedience. He came to the man of God for healing and was told to go and dip in River Jordan seven times. However, he objected because he felt the rivers of Damascus – Abana and Pharpar – were better rivers than River Jordan and all the waters of Israel. The key learning here is that Naaman needed obedience and humility to receive his healing.
Please note, if God gives you an instruction, it is not to make you look good; it is to bring obedience into your life.
Many are more interested in looking good rather than being obedient. God does not anoint looking good, He anoints obedience. When God told me to go to Ilesa (Osun State, Nigeria) some years ago to start a ministry there, I didn't like the town because when I first got there, there was no ice cream vendor. If I wanted to buy ice cream, I had to go to Osogbo or Akure, the capital of the neighbouring state, Ondo State. So, I didn't want to settle down in Ilesa because I loved ice cream so much. Each time I finished my official ministerial engagement in Ilesa, I would leave, until God said it would not work if I refused to stay there.
God's instruction to Naaman to dip in River Jordan seven times was not to make him look good but to obey as a ticket to the healing anointing. Obedience is what God anointed for his healing. The Bible says Jesus obeyed unto death (Phillipians 2:8). Some people only obey until their comfort is touched.
PRAYER: Father, I will humble myself before You, I will not allow any seed of pride in my heart in Jesus' name. Amen!
BIBLE IN A YEAR:
2 Samuel 1:1-2:11; John 12:20-50; Psalm 118:19-29; Proverbs 15:27-28
    
(Please note that you can follow this months devotional on YouVersion's The Bible App using this link: http://bible.us/r/9XT. Thank you!) 
========================
Beloved Woman of God,
Greetings of love in Jesus name!
WOMEN IN FRONT IN ZION 2023 is here again! It is God's special feast for all the wives of Heads of Christian ministries!
Theme: ADAPTATION POWER
Date: 2nd – 3rd June, 2023
Time: 12 noon on Friday through to 7am on Saturday!
Venue: Dream Centre of the Life Oasis International Church Headquarters, Osogbo, Osun State.
Registration: https://solaareogunministries.org/wifizion
For further enquiries: +234 805 953 3180, +234 907 991 2254
THE SPIRIT AND THE BRIDE SAY, "COME!"
See you there!
You are blessed!
Rev Oyenike Areogun
————————————————————
www.lifeoasisinternationalchurch.org
www.soundcloud.com/reverendareogun
www.dciradio.org
YouTube Channel- Sola Areogun Ministries
+2348037252124
#SpiritMeat
#ReverendAreogun
————————————————————

Copyright ©️ 2023
The general public is hereby informed that exclusive copyright
subsists in this work and therefore any attempt to reproduce,
copy, distribute to public for commercial purposes, publish any
translation of the work, make any film in respect of the work,
make an adaptation of the work, either the whole or substantial
part of the work, either in its original form or in any form
recognisably derived from the original is an infringement on the
right of the author and subject to litigation unless and except
the author has officially and clearly authorized the said person
or persons or the author is clearly acknowledged in the work.