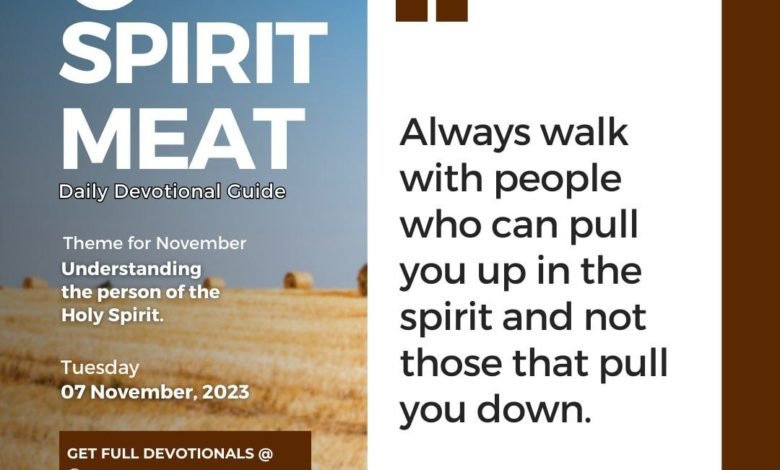 We will continue to look at some practical activities that will increase your sensitivity to the Holy Spirit.
6. Fasting Regularly: Fasting does not change God but it acts as a spiritual booster to any spiritual activity. If you want to study the Bible and you fast, it takes you to a higher level- you see deeper into the same verse, different from what you would normally see. You are generally more aware of your spiritual environment.
7. Stay Away from Unanointed Atmospheres: Learn how to create anointed atmospheres for yourself.
Worship, praise, and messages are major tools, get them playing around you always- while you are on the move, in your car, in your house, while sleeping etc.
Learn to sleep with the word of God playing on a device around you. Don t sleep with the television switched on (the spirit behind a TV program can slip into your house).
8. Maintain a Close Contact with Authentic Gifts and Callings of the Holy Spirit: Iron sharpeneth iron (Proverbs 27:17). Always walk with people that can pull you up in the spirit, not down. Don t relate with people that weaken and poison your spirit.
9. Spend time speaking in tongues: (Jude 20). This is one way of edifying your spirit and building up your faith.
10. Right, and Godly associations will stir up your passion for the voice of the Holy Spirit.
11. Get involved in personal private worship and cooperate public worship with likeminded individuals.
12. Drop your preconceived opinions: Ezekiel 14 talks about God answering men based on the idols in their heart.
PRAYER: Lord, I receive practical wisdom to develop a deeper walk with the Holy Spirit, let there be a change of gear in my spirit for a higher spiritual experience in Jesus name. Amen.
BIBLE IN A YEAR:
Ezekiel 16:42-17:24; Hebrews 8:1-13; Psalm 106:13-31; Proverbs 27:7-9

    
 
————————————————————
www.lifeoasisinternationalchurch.org
www.soundcloud.com/reverendareogun
www.dciradio.org
YouTube Channel- Sola Areogun Ministries
+2348037252124
#SpiritMeat
#ReverendAreogun
————————————————————

Copyright ©️ 2023
The general public is hereby informed that exclusive copyright
subsists in this work and therefore any attempt to reproduce,
copy, distribute to public for commercial purposes, publish any
translation of the work, make any film in respect of the work,
make an adaptation of the work, either the whole or substantial
part of the work, either in its original form or in any form
recognisably derived from the original is an infringement on the
right of the author and subject to litigation unless and except
the author has officially and clearly authorized the said person
or persons or the author is clearly acknowledged in the work.