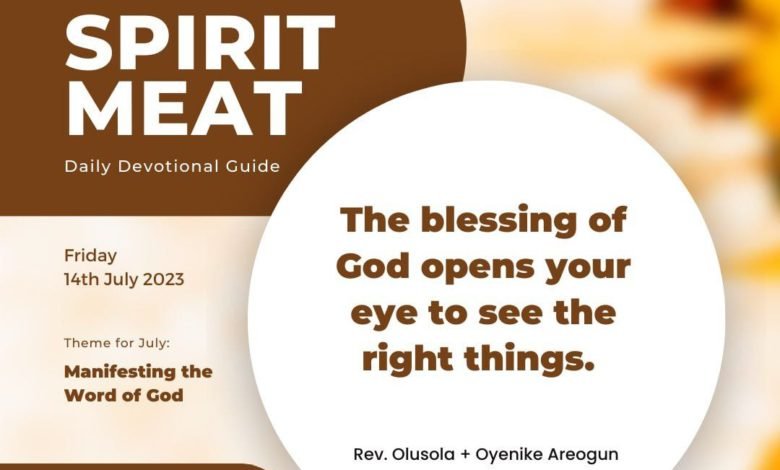 2 Kings 4:2
2 And Elisha said unto her, what shall I do for thee? Tell me, what hast thou in the house? And she said, Thine handmaid hath not any thing in the house, save a pot of oil.
There is a difference between ordinary eyes and anointed eyes. Anointed eyes show you how things can be, not the way they are, while ordinary eyes tell you exactly how things are. It is an anointed eye that makes you, as a businessman, see something that everybody else is despising. Anointed eyes will make you see a parcel of land and what can come out of it. Anointed eyes will make you see the "wife material" in a lady.
It is an attack of the enemy against many people's success for them not to have eyes that see. He blindfolds them from seeing their future, so they focus more on the danger. If you see a married man playing with a lady in his office, that's the devil's attack against him to destroy his future through adultery.
The blessing of God opens your eye to see the right things.
Joseph had anointed eyes to see Potiphar's wife coming to rob him of his crown. God wants your eyes to see because a breakthrough looks like a problem a lot of times. Many times, the future shows up like an opposition, yet anointed eyes will see the opportunity and go through it. Natural eyes may see the situation as being tough, but anointed eyes see the blessing hidden in it. Elisha asked, "What do you have in the house?" The woman replied, "Nothing in the house but a jar of oil". Yet, Elisha gave her instructions that brought her wealth from what she saw as nothing.
PRAYER: Lord, I pray for eyes to differentiate between danger and help. I pray for eyes to see and identify my provision and where God has kept it, in Jesus' name. Amen!
BIBLE IN A YEAR:
1 Chronicles 16:37-18:17; Romans 2:1-24; Psalm 10:16-18; Proverbs 19:8-9

    
(Please note that you can follow this months devotional on YouVersion's The Bible App using this link: http://bible.us/r/9y3. Thank you!) 
————————————————————
www.lifeoasisinternationalchurch.org
www.soundcloud.com/reverendareogun
www.dciradio.org
YouTube Channel- Sola Areogun Ministries
+2348037252124
#SpiritMeat
#ReverendAreogun
————————————————————

Copyright ©️ 2023
The general public is hereby informed that exclusive copyright
subsists in this work and therefore any attempt to reproduce,
copy, distribute to public for commercial purposes, publish any
translation of the work, make any film in respect of the work,
make an adaptation of the work, either the whole or substantial
part of the work, either in its original form or in any form
recognisably derived from the original is an infringement on the
right of the author and subject to litigation unless and except
the author has officially and clearly authorized the said person
or persons or the author is clearly acknowledged in the work.