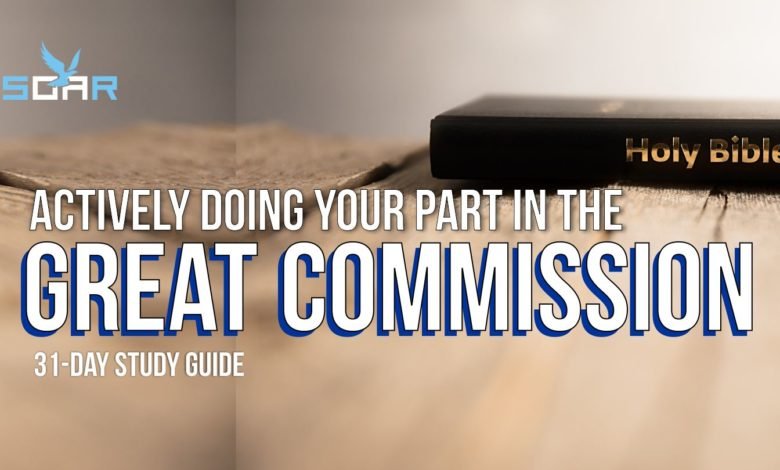 Welcome to the month of March 2023! This month's devotional will focus on "Actively Doing Your Part in the Great Commission" as we have it in Matthew 28:18-20. However, you must be built on the right foundation to do your part in this end-time.
Every building rests on the strength of its foundation. No matter how tall a building is, it is only as strong as the foundation it is standing on. Your academic pursuit, career, marriage, or spiritual life is only as strong as the foundation on which you are standing. Your Christian life is the life you started living when you got born again. What will strengthen that life till you meet Jesus?
I believe you are planning to be a Christian all your life and not for some time, and you do not plan to be on fire for God occasionally but throughout your life.
It is possible to keep burning and shining for God into old age. It is possible to get better and stronger as you grow older. People that know you today should still know you as a fine, solid, and godly Christian in twenty years.
The points I will be sharing in the coming days as foundations for a victorious Christian life are not out of my research but out of my walk with the Lord over the years and from studying the lives of many people. If you will look into your life and add these truths to your journey, I can assure you that in 1, 2, 5, 10, or 15 years, you would have made positive progress.
PRAYER: Lord, I make a commitment to follow You step-by-step all the days of my life in Jesus' name. So, help me, God. Amen!
BIBLE IN A YEAR:
Leviticus 24:1-25:46; Mark 10:13-31; Psalm 44:9-26; Proverbs 10:20-21

(Please note that you can follow this months devotional on YouVersion's The Bible App using this link: http://bible.us/r/9Mp. Thank you!) 
Beloved Woman of God,
Greetings of love in Jesus name!
WOMEN IN FRONT IN ZION 2023 is here again! It is God's special feast for all the wives of Heads of Christian ministries!
Date: 17th – 18th March, 2023
From 12 noon on Friday through to 7am on Saturday!
The venue is the Dream Centre of the Life Oasis International Church Headquarters, Osogbo, Osun State.
For further enquiries:
Call these lines
+234 805 953 3180
+234 907 991 2254
THE SPIRIT AND THE BRIDE SAY, "COME!"
See you there!
You are blessed!
Rev Oyenike Areogun
————————————————————
www.lifeoasisinternationalchurch.org
www.soundcloud.com/reverendareogun
www.dciradio.org
YouTube Channel- Sola Areogun Ministries
+2348037252124
#SpiritMeat
#ReverendAreogun
————————————————————

Copyright ©️ 2023
The general public is hereby informed that exclusive copyright
subsists in this work and therefore any attempt to reproduce,
copy, distribute to public for commercial purposes, publish any
translation of the work, make any film in respect of the work,
make an adaptation of the work, either the whole or substantial
part of the work, either in its original form or in any form
recognisably derived from the original is an infringement on the
right of the author and subject to litigation unless and except
the author has officially and clearly authorized the said person
or persons or the author is clearly acknowledged in the work.