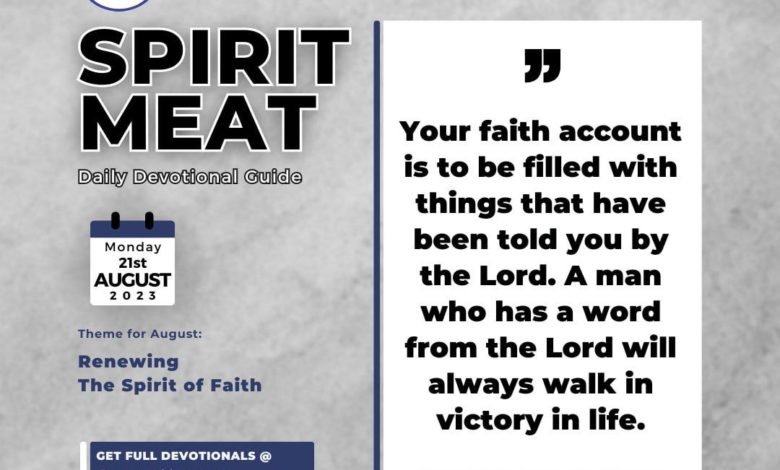 Genesis 39:3
3 And his master saw that the Lord was with him, and that the Lord made all that he did to prosper in his hand.
What enlisted God's involvement in Joseph's life was the word that God gave him. He had a word from the Lord and that was what sustained him until he eventually appeared on his throne of destiny. Psalm 105:17-22 gave a brief narrative of how this happened. God sent Joseph ahead of His people into Egypt. He was bound with fetters and iron, but when his word came, the King sent for him, loosed him and made him ruler over his people. The word of the Lord will make all the difference you need.
Luke 1:45
45 And blessed is she that believed: for there shall be a performance of those things which were told her from the Lord.
Something is being told to people from different places in life, but what has the Lord told you? A man who has a word from the Lord will always walk in victory in life. If there is a "Thus saith the Lord" in your life, you can go to sleep because He will surely come for you.
Your faith account is to be filled with things that have been told you by the Lord. That account will sponsor your life.
You must know what God is watching in your life. God is watching HIS WORD to perform it in your life (Jer. 1:12). He is not watching for your tears but your prayers filled with HIS WORDS. Build up your word bank now so that you will be able to make withdrawals from it when the pressures and challenges of life come.
PRAYER: Lord, I pray my faith account will not run dry in Jesus' name. Amen!
BIBLE IN A YEAR:
Job 1:1-3:26; 1 Corinthians 14:1-17; Psalm 37:12-29; Proverbs 21:25-26

    
(Please note that you can follow this months devotional on YouVersion's The Bible App using this link: http://bible.us/r/A6u) 
————————————————————
www.lifeoasisinternationalchurch.org
www.soundcloud.com/reverendareogun
www.dciradio.org
YouTube Channel- Sola Areogun Ministries
+2348037252124
#SpiritMeat
#ReverendAreogun
http://bible.us/r/A6u
————————————————————

Copyright ©️ 2023
The general public is hereby informed that exclusive copyright
subsists in this work and therefore any attempt to reproduce,
copy, distribute to public for commercial purposes, publish any
translation of the work, make any film in respect of the work,
make an adaptation of the work, either the whole or substantial
part of the work, either in its original form or in any form
recognisably derived from the original is an infringement on the
right of the author and subject to litigation unless and except
the author has officially and clearly authorized the said person
or persons or the author is clearly acknowledged in the work.