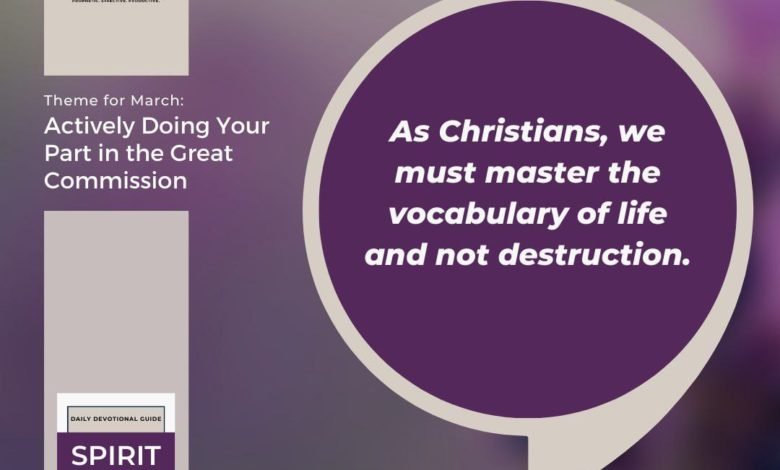 I showed you two pictures yesterday from the Word of God in James 3. I will show you one more picture today from the same chapter.
Picture 3: "Even so the tongue is a little member, and boasteth great things. Behold, how great a matter a little fire kindleth!" (Jam.3:5).
"Kindling" is a word used to describe little pieces of wood to keep the fire going. What fire have you started in your life? Every fire has kindling. Why don't you set up the right fire? You can set up fire to burn sickness in your body and to completely consume every work of the devil in your life.
A bit in the mouth of a horse controls the whole horse. A small rudder on a huge ship in the hands of a skilled captain sets a course in the face of the strongest of winds. A word out of your mouth may seem of no account, but it can accomplish nearly anything (great and mighty things) and destroy anything as well. It all depends on how you are using it.
It only takes a spark, remember, to start a forest fire. A careless or wrongly placed word out of your mouth can do the same.
As Christians, we must master the vocabulary of life and not destruction. Your tongue is a fire, and it can burn things up. Make sure it is only burning the wrong things out of your life and not the right things.
May your mouth be under the advice of your born-again spirit and not your flesh in Jesus' name. Amen!
PRAYER: I pray that my mouth will be under the influence of my recreated human spirit in Jesus' name. Amen!
BIBLE IN A YEAR:
Deuteronomy 7:1-8:20; Luke 7:36-8:3; Psalm 69:1-18; Proverbs 12:1

(Please note that you can follow this months devotional on YouVersion's The Bible App using this link: http://bible.us/r/9Mp. Thank you!) 
Dearly Beloved of God,
Greetings to you in the matchless name of our Lord Jesus Christ.
You are specially invited to the 2023 edition of our ANNUAL RESURRECTION FAITH SEMINAR (RFS).
The details of this year's edition of RFS are as follows:
Date: 6th – 9th April, 2023 (Thursday – Sunday).
Time: Thursday: 5-9pm; Friday-Saturday: 8am-2pm, 5-9pm; Sunday: 8am-12noon (GMT+1)
Venue: The Dream Centre Headquarters, Close to November 27 Interchange (Ona baba Ona Bridge) before the State Secretariat, Abere, Osogbo, Osun State, Nigeria
Ministering: Rev. Olusola + Oyenike Areogun (Hosts), Rev Akinlolu Raphael, Pastor Tunde Jaiyebo and Rev Emiko Amotsuka
Registration: https://lifeoasisinternationalchurch.org/arfs/
All sessions will be streamed online on our streaming platforms.
YouTube: https://youtube.com/DreamCentreLiveSTREAMING/live
Church Website: https://lifeoasisinternationalchurch.org/streaming/
dciradio: http://dciradio.org
Mixlr: https://mixlr.com/reverendareogun
Telegram: https://t.me/DCNewLiveUpdates?livestream
Facebook: http://facebook.com/ReverendAreogun
Enquiries: For enquiries on accommodation, feeding, tapes and books from this conference and other logistics, please call +2307034153461; +2349079912254; +2348066509112, +2348037252124
Come, all things are yours!
Come, all things are ready!!!
Jesus is LORD!
HOSTS,
REV. OLUSOLA + OYENIKE AREOGUN
————————————————————
www.lifeoasisinternationalchurch.org
www.soundcloud.com/reverendareogun
www.dciradio.org
YouTube Channel- Sola Areogun Ministries
+2348037252124
#SpiritMeat
#ReverendAreogun
————————————————————

Copyright ©️ 2023
The general public is hereby informed that exclusive copyright
subsists in this work and therefore any attempt to reproduce,
copy, distribute to public for commercial purposes, publish any
translation of the work, make any film in respect of the work,
make an adaptation of the work, either the whole or substantial
part of the work, either in its original form or in any form
recognisably derived from the original is an infringement on the
right of the author and subject to litigation unless and except
the author has officially and clearly authorized the said person
or persons or the author is clearly acknowledged in the work.