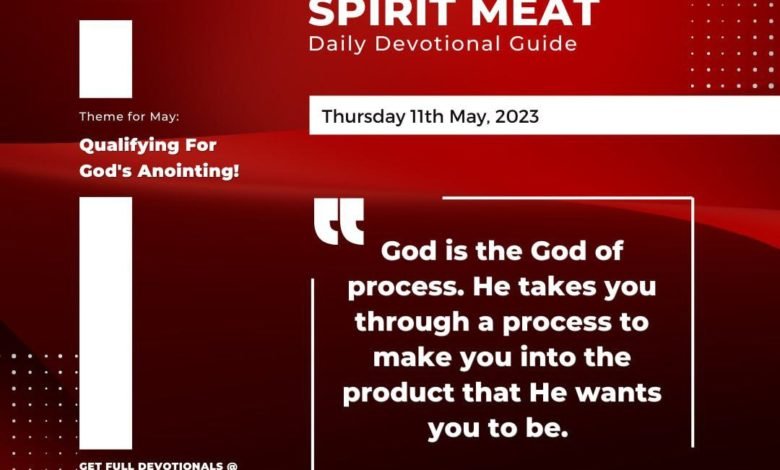 So far, we have looked at three things that God anoints. They are Sonship, Divine Choice, and Submission. The fourth thing God anoints that we are going to look at today is Divine Process. God is the God of process. He takes you through a process to make you into the product that He wants you to be. I want you to take note of these four Ps – Person, Process, Pace, and Product. These are God's will in our lives. When God called you, He knew what He wanted to make you become. He calls you as a person, He has His plans for you, and He introduces you to the process.
When Jesus called His disciples, He called them to be with Him (Mar. 3:14). Being with Him is the Divine Process where He took them through the crucible of the Holy Spirit.
It is the process that makes a product come out well. Don't be a believer that avoids process; stay under the shaping and moulding hand of God.
God is the Maker. His plan and purpose for our lives determine the process He takes us through. For example, the process to make a governor out of somebody is different from the process to make a pastor out of another. Therefore, stop looking at another person and being jealous of another person's post because God is making different products out of us. God is the Maker.
PRAYER: Father, help me to stay under the shaping hands of the Holy Spirit. Amen!
BIBLE IN A YEAR:
1 Samuel 10:1-11:15; John 6:43-71; Psalm 107:1-43; Proverbs 15:1-3
    
(Please note that you can follow this months devotional on YouVersion's The Bible App using this link: http://bible.us/r/9XT. Thank you!) 
————————————————————
www.lifeoasisinternationalchurch.org
www.soundcloud.com/reverendareogun
www.dciradio.org
YouTube Channel- Sola Areogun Ministries
+2348037252124
#SpiritMeat
#ReverendAreogun
————————————————————

Copyright ©️ 2023
The general public is hereby informed that exclusive copyright
subsists in this work and therefore any attempt to reproduce,
copy, distribute to public for commercial purposes, publish any
translation of the work, make any film in respect of the work,
make an adaptation of the work, either the whole or substantial
part of the work, either in its original form or in any form
recognisably derived from the original is an infringement on the
right of the author and subject to litigation unless and except
the author has officially and clearly authorized the said person
or persons or the author is clearly acknowledged in the work.