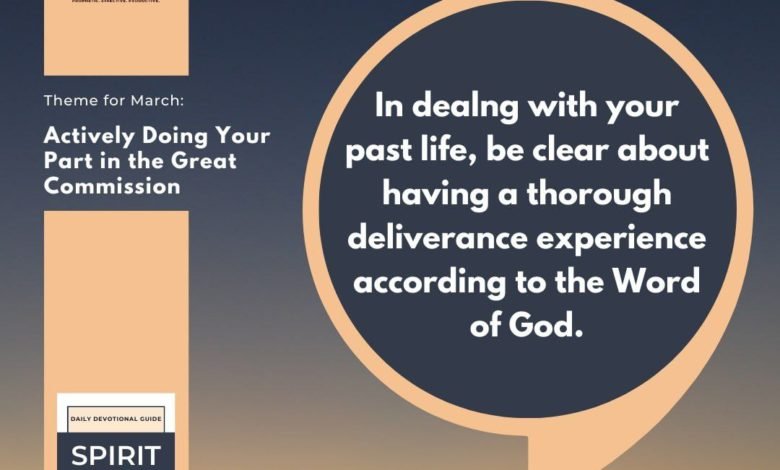 in dealing with your past life, one of the critical things you must be sure of is total deliverance, that nothing in your past life mixes with your current state in Christ. Be clear about having a thorough deliverance experience according to the Word of God.
There are controversies in the church today and many questions have been asked over and over again like:
1. Could a Christian have had a relationship with the devil before he got saved that he needs to address after salvation?
2. Can a man make room for the devil after getting born again?
If you can't give room to the devil, the Bible won't tell you not to give room to him (Eph. 4:27).
As a parent, one of the first assignments you have in your children's life is to remove them officially, legally, and vitally from every negative covenant in your ancestry. Don't give room to the devil in the lives of your children. Jacob saw Naphtali's potential, but he also saw him trapped in a life where the potential was not showing. So, he decided to release Naphtali before he died (Gen. 49:21).
Legally, our salvation was total and complete (spiritual, mental, physical, and in every way), but there is a difference between the legal side and the vital side. For example, if you collect your salary by cheque, you have money legally but can't spend it until you cash it. Everything in the Bible is your position legally as a child of God, but you step into it with your faith, mouth, and action. Don't just stay on the legal side; get into the vital side of Christianity.
PRAYER: Father, I will not give room to the devil or willingly subject myself to demonic interactions. I have complete victory over every work of darkness in Jesus' name. Amen!
BIBLE IN A YEAR:
Numbers 26:52-28:15; Luke 3:1-22; Psalm 61:1-8; Proverbs 11:16-17

(Please note that you can follow this months devotional on YouVersion's The Bible App using this link: http://bible.us/r/9Mp. Thank you!) 
Dearly Beloved of God,
Greetings to you in the matchless name of our Lord Jesus Christ.
You are specially invited to the 2023 edition of our ANNUAL RESURRECTION FAITH SEMINAR (RFS).
The details of this year's edition of RFS are as follows:
Date: 6th – 9th April, 2023 (Thursday – Sunday).
Time: Thursday: 5-9pm; Friday-Saturday: 8am-2pm, 5-9pm; Sunday: 8am-12noon (GMT+1)
Venue: The Dream Centre Headquarters, Close to November 27 Interchange (Ona baba Ona Bridge) before the State Secretariat, Abere, Osogbo, Osun State, Nigeria
Ministering: Rev. Olusola + Oyenike Areogun (Hosts), Rev Akinlolu Raphael, Pastor Tunde Jaiyebo and Rev Emiko Amotsuka
Registration: https://lifeoasisinternationalchurch.org/arfs/
All sessions will be streamed online on our streaming platforms.
YouTube: https://youtube.com/DreamCentreLiveSTREAMING/live
Church Website: https://lifeoasisinternationalchurch.org/streaming/
dciradio: http://dciradio.org
Mixlr: https://mixlr.com/reverendareogun
Telegram: https://t.me/DCNewLiveUpdates?livestream
Facebook: http://facebook.com/ReverendAreogun
Enquiries: For enquiries on accommodation, feeding, tapes and books from this conference and other logistics, please call +2307034153461; +2349079912254; +2348066509112, +2348037252124
Come, all things are yours!
Come, all things are ready!!!
Jesus is LORD!
HOSTS,
REV. OLUSOLA + OYENIKE AREOGUN
————————————————————
www.lifeoasisinternationalchurch.org
www.soundcloud.com/reverendareogun
www.dciradio.org
YouTube Channel- Sola Areogun Ministries
+2348037252124
#SpiritMeat
#ReverendAreogun
————————————————————

Copyright ©️ 2023
The general public is hereby informed that exclusive copyright
subsists in this work and therefore any attempt to reproduce,
copy, distribute to public for commercial purposes, publish any
translation of the work, make any film in respect of the work,
make an adaptation of the work, either the whole or substantial
part of the work, either in its original form or in any form
recognisably derived from the original is an infringement on the
right of the author and subject to litigation unless and except
the author has officially and clearly authorized the said person
or persons or the author is clearly acknowledged in the work.