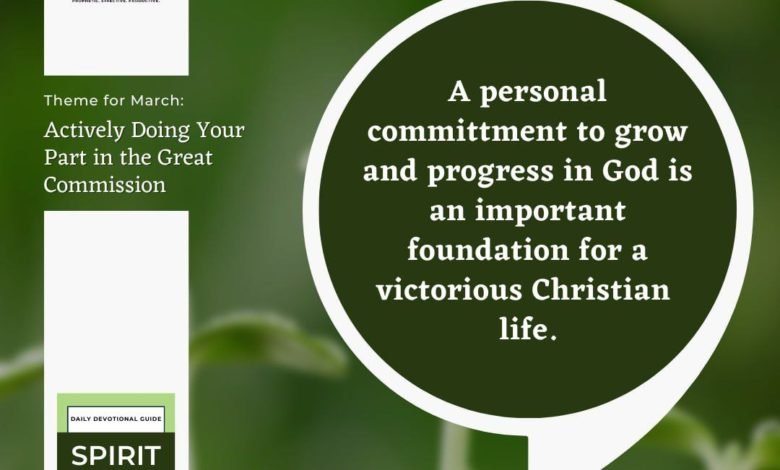 A personal commitment to grow and progress in God is an important foundation for a victorious Christian life. You must make a personal decision to be a growing Christian. Don't be a social giant who is a spiritual midget. The foundation of human life on earth is the spiritual side, which gives you an advantage. Be the Christian that is so sound in every area of your life.
God gave me a word for Christian elites and professionals and called them "The Daniel's Company". They are not a group of secular elites that sit down in church without receiving anything but just assess the pastor's grammar. They are spiritual elites, men who are thoroughly trained in spiritual matters, highly professional, and prophetic.
It was said of Daniel that nobody could beat him on his job because he had the Spirit of excellence (Dan. 5:11-12). I don't know any other prophet apart from the Lord Jesus Christ that came up to the degree of accuracy of prophecy like Daniel. He prophesied to the last hour about the day Jesus would enter Jerusalem, yet he was not a pastor. He was not the kind of politician of today who does not have time for God.
Can you be such a Christian that when you step into the board room where there are people that have come with demons, they will start checking out?
You can't survive if you go to mix with sharks without having something that will kill them, else, they will defeat you.
PRAYER: Lord, I refuse to be a spiritual midget. I commit myself from today to spiritual growth and soundness in Jesus' name. Amen!
BIBLE IN A YEAR:
Numbers 28:16-29:40; Luke 3:23-38; Psalm 62:1-12; Proverbs 11:18-19

(Please note that you can follow this months devotional on YouVersion's The Bible App using this link: http://bible.us/r/9Mp. Thank you!) 
Dearly Beloved of God,
Greetings to you in the matchless name of our Lord Jesus Christ.
You are specially invited to the 2023 edition of our ANNUAL RESURRECTION FAITH SEMINAR (RFS).
The details of this year's edition of RFS are as follows:
Date: 6th – 9th April, 2023 (Thursday – Sunday).
Time: Thursday: 5-9pm; Friday-Saturday: 8am-2pm, 5-9pm; Sunday: 8am-12noon (GMT+1)
Venue: The Dream Centre Headquarters, Close to November 27 Interchange (Ona baba Ona Bridge) before the State Secretariat, Abere, Osogbo, Osun State, Nigeria
Ministering: Rev. Olusola + Oyenike Areogun (Hosts), Rev Akinlolu Raphael, Pastor Tunde Jaiyebo and Rev Emiko Amotsuka
Registration: https://lifeoasisinternationalchurch.org/arfs/
All sessions will be streamed online on our streaming platforms.
YouTube: https://youtube.com/DreamCentreLiveSTREAMING/live
Church Website: https://lifeoasisinternationalchurch.org/streaming/
dciradio: http://dciradio.org
Mixlr: https://mixlr.com/reverendareogun
Telegram: https://t.me/DCNewLiveUpdates?livestream
Facebook: http://facebook.com/ReverendAreogun
Enquiries: For enquiries on accommodation, feeding, tapes and books from this conference and other logistics, please call +2307034153461; +2349079912254; +2348066509112, +2348037252124
Come, all things are yours!
Come, all things are ready!!!
Jesus is LORD!
HOSTS,
REV. OLUSOLA + OYENIKE AREOGUN
————————————————————
www.lifeoasisinternationalchurch.org
www.soundcloud.com/reverendareogun
www.dciradio.org
YouTube Channel- Sola Areogun Ministries
+2348037252124
#SpiritMeat
#ReverendAreogun
————————————————————

Copyright ©️ 2023
The general public is hereby informed that exclusive copyright
subsists in this work and therefore any attempt to reproduce,
copy, distribute to public for commercial purposes, publish any
translation of the work, make any film in respect of the work,
make an adaptation of the work, either the whole or substantial
part of the work, either in its original form or in any form
recognisably derived from the original is an infringement on the
right of the author and subject to litigation unless and except
the author has officially and clearly authorized the said person
or persons or the author is clearly acknowledged in the work.