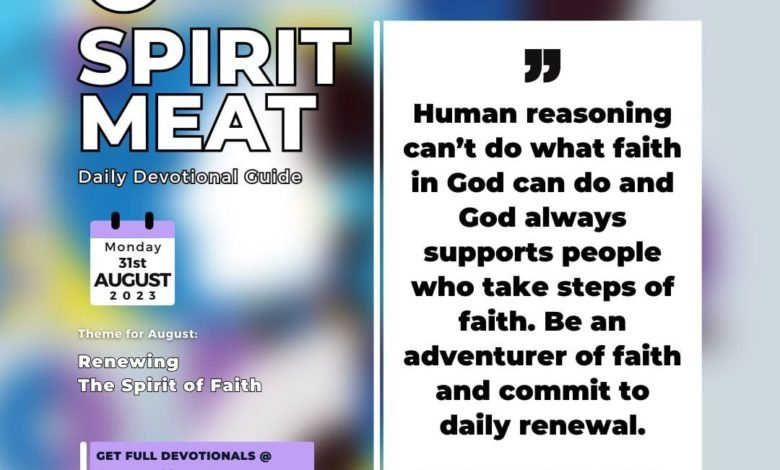 Faith is the victory! So, without faith, there is no victory. You must take the teaching and the subject of faith seriously because it is your ticket to victory land. You have no victory if you have no faith. The subject of faith is not negotiable.
In 1 John 5:4, the Bible says, "For whatsoever is born of God overcometh the world: and this is the victory that overcometh the world, even our faith". Revelation 22:3 also says, "And there shall be no more curse: but the throne of God and of the Lamb shall be in it; and his servants shall serve him". Curses do not exist where God exists, but in there are curses this world. You can overcome curses by faith, and you can hand this victory over to your seed after you, down the line, thereby stopping the curse and starting the blessing. I pray that the spirit of faith will not get stale, dried, or die inside you. Let the spirit of faith be renewed in you in Jesus' name. Let it come alive and be awakened in Jesus' name.
Decide to yield to the spirit of faith. Live by it because you have it. Let it rule your words, thoughts, and decisions.
We have nothing better than the faith that God has offered us. Every alternative the devil offers is to destroy us. Human reasoning can't do what faith in God can do, and God always supports people who take steps of faith. Be an adventurer of faith and commit to daily renewal.
PRAYER: Lord, I overcome every demonic curse by faith. I stop the curse and start the blessing. I receive the wisdom to keep my life from the curse in Jesus' name. Amen!
BIBLE IN A YEAR:
Job 37:1-39:30; 2 Corinthians 4:13-5:10; Psalm 44:9-26; Proverbs 22:13

    
(Please note that you can follow this months devotional on YouVersion's The Bible App using this link: http://bible.us/r/A6u) 
————————————————————
www.lifeoasisinternationalchurch.org
www.soundcloud.com/reverendareogun
www.dciradio.org
YouTube Channel- Sola Areogun Ministries
+2348037252124
#SpiritMeat
#ReverendAreogun
http://bible.us/r/A6u
————————————————————

Copyright ©️ 2023
The general public is hereby informed that exclusive copyright
subsists in this work and therefore any attempt to reproduce,
copy, distribute to public for commercial purposes, publish any
translation of the work, make any film in respect of the work,
make an adaptation of the work, either the whole or substantial
part of the work, either in its original form or in any form
recognisably derived from the original is an infringement on the
right of the author and subject to litigation unless and except
the author has officially and clearly authorized the said person
or persons or the author is clearly acknowledged in the work.