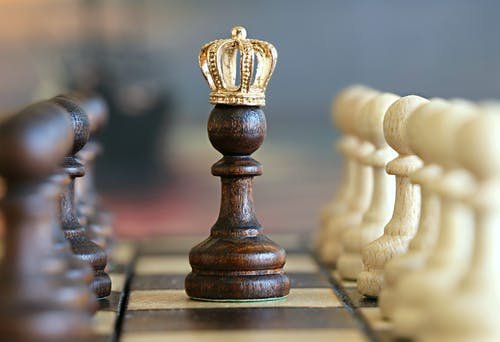 First, the Spirit of God will strive with a man. God is going to strive with us whenever our ignorance or our wrong training conflicts with His choice for us or gets in the way.
For example, if you wanted to do something contrary to the will of God, the Spirit of God within you will rise in opposition. This striving determines your submission to His Lordship or where you react to His will.
When the Lord said to Paul, "…It is hard for you to kick against the pricks" (Acts 9:5), the prick that He was talking about there is the will of God for his life. If you knock it, it will hurt you. You can't knock God's will for your life and not injure yourself somewhere. All you need to do is to move away from reacting to God's will and stay in the centre of His will for your life. Don't try to test God by finding out how far you can move to the edge of His will before you get into danger. Don't test it!
Instead, you must seek to press beyond the point of no return with the Lord. If you can gain victory in this area of submission to God's will, making Him your Lord, letting Him decide and all you're doing is just carrying out His decision, you cannot be defeated as a believer. If you are carrying out the decision of the president of this country, he has to back you up with his power. In the same way, when you're carrying out the decision of the Almighty God, no principality and power will be able to stand against you, not even any man or the devil. The God of that decision is going to show Himself strong for you.
PRAYER: Father, I yield to You. I will not frustrate the strivings of Your spirit in me. Amen.
BIBLE IN A YEAR:
Genesis 31:17-32:12, Matthew 10:24-11:6, Psalm 13:1-6, Proverbs 3:16-18


IMPORTANT INFORMATION
Dearly Beloved of God, Greetings to you in the matchless name of our Lord Jesus Christ. You are specially invited to the 2022 edition of our ANNUAL SCHOOL OF MINISTRY (ASOM) with the theme: KINGDOM GROWTH versus CHURCH GROWTH.
Every year, ASOM has been a mountain where Apostles, Prophets, Evangelists, Pastors, Teachers, Heads of Ministries, Associate Pastors, Missionaries and all those in active ministry come to refresh, renew, re-fire their spirits and encounter the God of their calling. The details of this year's edition of ASOM are as follows:
Date: 3rd – 5th February, 2022 (Thursday – Saturday).
Time: Thursday – 5pm, Friday – 8am, and Saturday – 8am (GMT+1)
Venue: The Dream Centre Headquarters, Close to November 27 Interchange (Ona baba Ona Bridge) before the State Secretariat, Abere, Osogbo, Osun State, Nigeria
Registration: Click on https://solaareogunministries.org/events/asom2022/ to complete online registration OR when you arrive at the conference. Registration is FREE.
Enquiries: For enquiries on accommodation, feeding, tapes and books from this conference and other logistics, please call +234(0)9079912254; 08036207471; 07064335373 and 08037252124.
All things are ready.
Jesus is LORD!
Forever His,
Rev & Rev (Mrs) Olusola Areogun