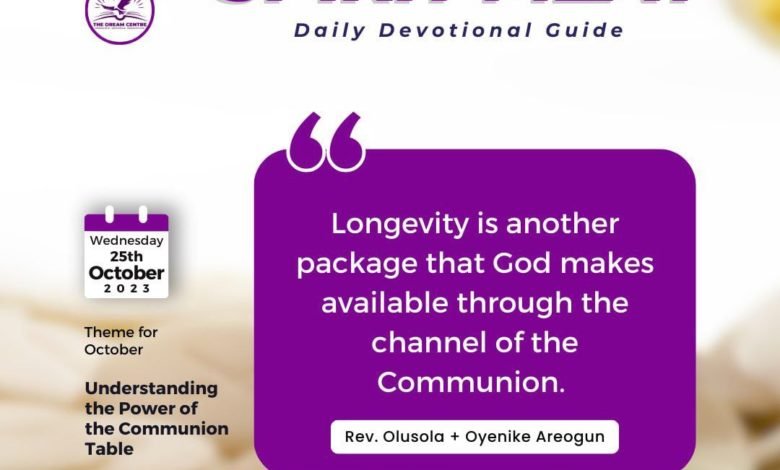 Exodus 23:25-26
25 And ye shall serve the LORD your God, and he shall bless thy bread, and thy water; and I will take sickness away from the midst of thee.
26 There shall nothing cast their young, nor be barren, in the land: the number of thy days I will fulfil.
Longevity is another package that God makes available through the channel of the Communion. He said His people would not only be preserved from sicknesses, but He would fulfil the number of their days. That is the covenant of longevity. Shortness of life, premature death, and the like are signs of the curse. A blessed man will fulfil the number of his days.
As a child of God, no sickness should threaten to cut your life short.
You should take the sickness out through the power of God that is made available in your body when you break bread. No individual should threaten to do you harm when you can invoke the covenant power by breaking bread. Mordecai told Haman, "I am a Jew (Est. 3:2-4)", which implies "I am a covenant carrier". David called Goliath an uncircumcised Philistine and took him out through the covenant power (1 Sam. 17:26, 45-51). You can do the same to your enemies if you are born again. As a born-again person, you are a covenant carrier, and God takes your matter personally.
PRAYER: I walk in the covenant of longevity. I shall not die but live and declare the word of God, in Jesus' name. Amen!
BIBLE IN A YEAR:
Jeremiah 48:1-49:22; 2 Timothy 4:1-22; Psalm 95:1-96:13; Proverbs 26:9-12

    
(Please note that you can follow this months devotional on YouVersion's The Bible App using this link: http://bible.us/r/AQT) 
————————————————————
www.lifeoasisinternationalchurch.org
www.soundcloud.com/reverendareogun
www.dciradio.org
YouTube Channel- Sola Areogun Ministries
+2348037252124
#SpiritMeat
#ReverendAreogun
http://bible.us/r/A6u
————————————————————

Copyright ©️ 2023
The general public is hereby informed that exclusive copyright
subsists in this work and therefore any attempt to reproduce,
copy, distribute to public for commercial purposes, publish any
translation of the work, make any film in respect of the work,
make an adaptation of the work, either the whole or substantial
part of the work, either in its original form or in any form
recognisably derived from the original is an infringement on the
right of the author and subject to litigation unless and except
the author has officially and clearly authorized the said person
or persons or the author is clearly acknowledged in the work.