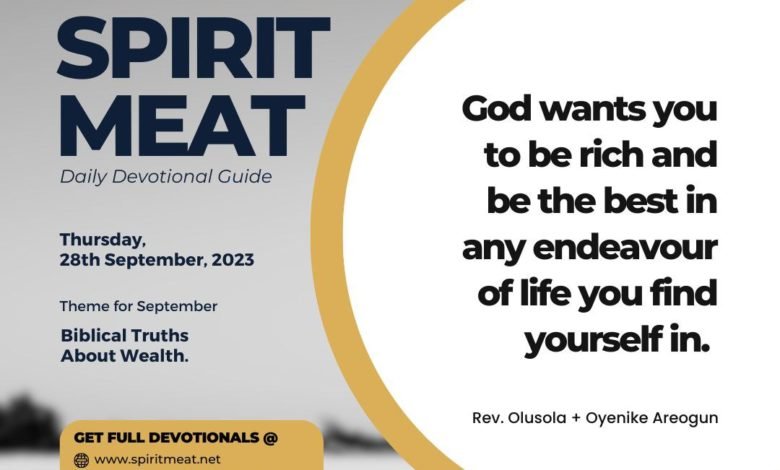 Mark 10:24
24 And the disciples were astonished at his words. But Jesus answereth again, and saith unto them, Children, how hard is it for them that trust in riches to enter into the kingdom of God!
The above text is the story of the rich young ruler who came to Jesus to ask what he could do to inherit eternal life. A lot of misconceptions and wrong doctrines, which are totally against what this passage is telling us, have come out of the passage. People have said God is against believers having riches because Jesus told the man to go and sell all that he had and follow him. The man in this passage had a different story entirely, which will not apply to all believers. The rich young ruler was invited into an apostolic destiny, and not everyone will receive that kind of call.
God wants you to be rich and be the best in any endeavour of life you find yourself in.
This is because the end-time battle will not be fought from the pulpit but by disguised apostles who have platforms that are very high in the world and are also very sound believers. These are the people I refer to as the "DANIEL COMPANY". They are highly placed and versatile PROFESSIONALS, but they are also PROPHETIC (current with spiritual operations and activities), and FATHERED (submitted to a Kingdom authority somewhere, are well groomed, prepared, and ready).
PRAYER: LORD, I pray that You will help me to be ready when my platform shows up. Amen!
BIBLE IN A YEAR:
Isaiah 54:1-57:14; Ephesians 6:1-24; Psalm 70:1-5; Proverbs 24:8

    
(Please note that you can follow this months devotional on YouVersion's The Bible App using this link: http://bible.us/r/AHK) 
————————————————————
www.lifeoasisinternationalchurch.org
www.soundcloud.com/reverendareogun
www.dciradio.org
YouTube Channel- Sola Areogun Ministries
+2348037252124
#SpiritMeat
#ReverendAreogun
http://bible.us/r/A6u
————————————————————

Copyright ©️ 2023
The general public is hereby informed that exclusive copyright
subsists in this work and therefore any attempt to reproduce,
copy, distribute to public for commercial purposes, publish any
translation of the work, make any film in respect of the work,
make an adaptation of the work, either the whole or substantial
part of the work, either in its original form or in any form
recognisably derived from the original is an infringement on the
right of the author and subject to litigation unless and except
the author has officially and clearly authorized the said person
or persons or the author is clearly acknowledged in the work.