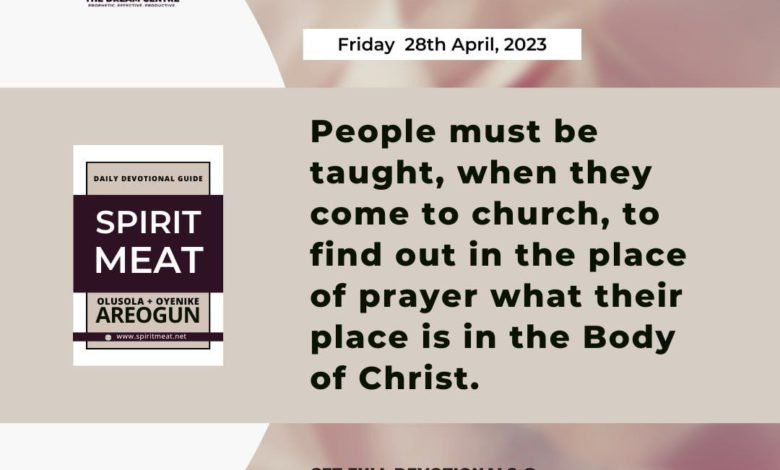 Functional membership is one of the most important and toughest jobs of a pastor. Heading a local church as a pastor is not just about having congregants; the job of the pastor is placing members. People must be taught, when they come to church, to find out in the place of prayer, what their place is in the Body of Christ. You must get your place right with respect to location, attitude, and positioning. Even if you are the governor of a state, when God shows you the Church you are to become a part of, you must take a position relative to the pastor that would make God able to transfer flows from the head of Jesus through the pastor to you. If you take the wrong position attitudinally, you cannot receive anything.
After you have found and joined the Church, the question you must ask is, "Where is my place in this place?" You also need an answer to "Who am I to follow here?" It is failing to answer this second question that leads many people into bad church membership and bad churching is the reason the destinies of many believers are not happening.
You are not to come to church to take after your unserious member-friend simply because he was the person that invited you. You are to find out who God wants to join you to there. The third question a believer must answer on coming to church is "What am I to follow?". The Bible enjoins us to follow the example of the faith of fathers, not their fashion. The Bible did not enjoin us to copy their grammar either.
PRAYER: I will not be a bench warmer in the House of God. I will not be found missing at my duty post in Jesus' name. Amen!
BIBLE IN A YEAR:
Judges 8:18-9:21; Luke 23:44-24:12; Psalm 99:1-9; Proverbs 14:9-10
(Please note that you can follow this months devotional on YouVersion's The Bible App using this link: http://bible.us/r/9XT. Thank you!) 
————————————————————
www.lifeoasisinternationalchurch.org
www.soundcloud.com/reverendareogun
www.dciradio.org
YouTube Channel- Sola Areogun Ministries
+2348037252124
#SpiritMeat
#ReverendAreogun
————————————————————

Copyright ©️ 2023
The general public is hereby informed that exclusive copyright
subsists in this work and therefore any attempt to reproduce,
copy, distribute to public for commercial purposes, publish any
translation of the work, make any film in respect of the work,
make an adaptation of the work, either the whole or substantial
part of the work, either in its original form or in any form
recognisably derived from the original is an infringement on the
right of the author and subject to litigation unless and except
the author has officially and clearly authorized the said person
or persons or the author is clearly acknowledged in the work.