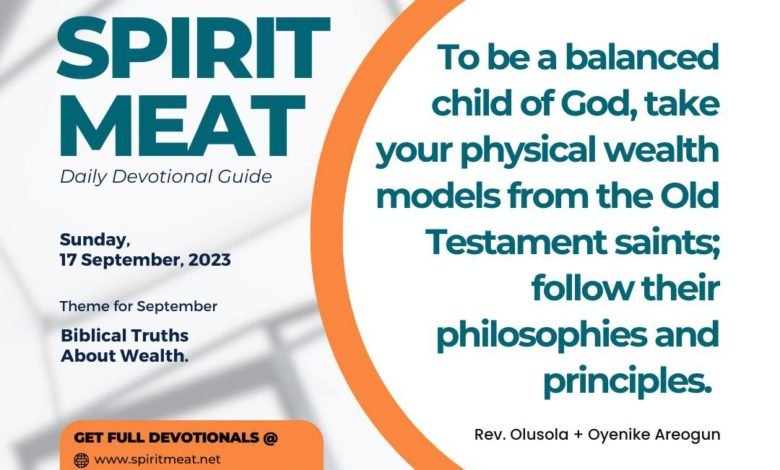 To be a balanced child of God, take your physical wealth models from the Old Testament saints, following their philosophies and their principles. In reading through the Bible, you will notice that the New Testament does not focus much on wealth. Some people pick some of Paul's statements, such as "We are poor, yet making many rich (2 Cor. 6:10)," and emphasise on "we are poor" but neglect "yet making many rich." When Paul said, "We are poor, yet making many rich", he was referring to ministers of the gospel. This means that there must be something flowing from a minister of the gospel (if he is genuine) that can make many rich.
The same Paul said in 1 Corinthians 9:11, "If we have sown unto you spiritual things, is it a great thing if we shall reap your carnal things?" The picture Paul is painting here is that the minister of the gospel should not make the pursuit of carnal things his primary objective so that he can pay attention to the spiritual duties of his calling. Rather, he should minister spiritual things to the people, and the people, out of understanding, should reward him with carnal things because nobody can survive on earth without carnal things.
If you will be a balanced Christian in terms of victory in life, then you must take your physical model from David and your spiritual model from Apostle Paul, and then balance the two.
Some of David's prayers about his enemies show you that there are some enemy situations that you must not approach in a friendly manner. For wealth, Abraham and Solomon should be your models. In leadership, Joseph, Daniel, David, Ezra, and Nehemiah are your models. For a model in ministry, adopt the life of Paul.
PRAYER: Lord, open my eyes to see my God-given patterns and examples from the scriptures. I receive wisdom for accurate interpretation in Jesus' name. Amen!
BIBLE IN A YEAR:
Isaiah 25:1-28:13; Galatians 3:10-22; Psalm 61:1-8; Proverbs 23:17-18

    
(Please note that you can follow this months devotional on YouVersion's The Bible App using this link: http://bible.us/r/AHK) 
————————————————————
www.lifeoasisinternationalchurch.org
www.soundcloud.com/reverendareogun
www.dciradio.org
YouTube Channel- Sola Areogun Ministries
+2348037252124
#SpiritMeat
#ReverendAreogun
http://bible.us/r/A6u
————————————————————

Copyright ©️ 2023
The general public is hereby informed that exclusive copyright
subsists in this work and therefore any attempt to reproduce,
copy, distribute to public for commercial purposes, publish any
translation of the work, make any film in respect of the work,
make an adaptation of the work, either the whole or substantial
part of the work, either in its original form or in any form
recognisably derived from the original is an infringement on the
right of the author and subject to litigation unless and except
the author has officially and clearly authorized the said person
or persons or the author is clearly acknowledged in the work.