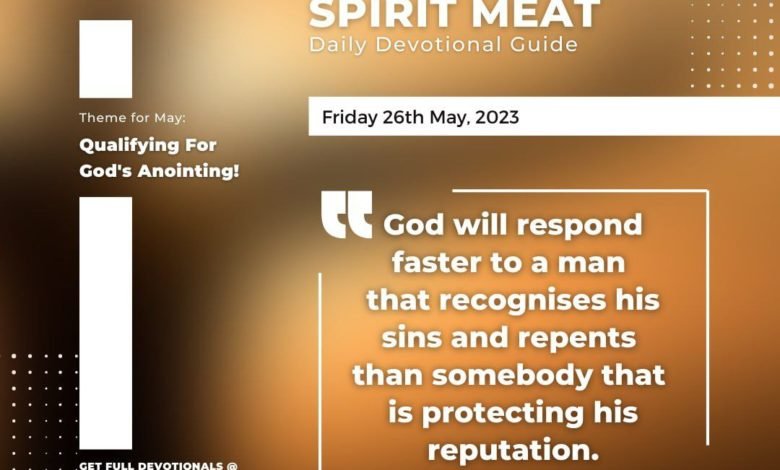 Something about the nature of God is that He hates sin. The Bible talks of the love of money, which is different from money itself. It also talks of the love of the truth, which is different from the truth. The Bible talks of hatred of iniquity as different from sin. A man may hate iniquity and make mistakes, but he'll repent. David hated iniquity even though he made mistakes.
Compare David with Saul, the king. When the prophet told Saul that he had sinned, Saul said he should still honour him before the people so that they would think that everything was in order (1 Sam. 15:1-25). David, however, admitted that he had sinned when the prophet confronted him (2 Sam. 12:1-13).
God will respond faster to a man that recognises his sins and repents than somebody that is protecting his reputation.
Do you hate sin? Do you love righteousness? God is not interested in what is popular; He is interested in what is right. God blesses what is right and not what is popular. If you do it right and people do not recognise you, don't worry, the time for the reward of righteousness is coming. God always anoints what is right. The Lord told me years ago that the future belongs to the man that is doing it right, not to the man that is doing it fast. Whatever you are doing, in ministry or marriage, in the boardroom or bathroom, always love righteousness and your head will never lack oil.
PRAYER: Father, help me to be the man of the future by choosing what is right in Your sight for me in Jesus' name. Amen!
BIBLE IN A YEAR:
2 Samuel 9:1-11:27; John 15:1-27; Psalm 119:49-64; Proverbs 16:1-3
    
(Please note that you can follow this months devotional on YouVersion's The Bible App using this link: http://bible.us/r/9XT. Thank you!) 
========================
Beloved Woman of God,
Greetings of love in Jesus name!
WOMEN IN FRONT IN ZION 2023 is here again! It is God's special feast for all the wives of Heads of Christian ministries!
Theme: ADAPTATION POWER
Date: 2nd – 3rd June, 2023
Time: 12 noon on Friday through to 7am on Saturday!
Venue: Dream Centre of the Life Oasis International Church Headquarters, Osogbo, Osun State.
Registration: https://solaareogunministries.org/wifizion
For further enquiries: +234 805 953 3180, +234 907 991 2254
THE SPIRIT AND THE BRIDE SAY, "COME!"
See you there!
You are blessed!
Rev Oyenike Areogun
————————————————————
www.lifeoasisinternationalchurch.org
www.soundcloud.com/reverendareogun
www.dciradio.org
YouTube Channel- Sola Areogun Ministries
+2348037252124
#SpiritMeat
#ReverendAreogun
————————————————————

Copyright ©️ 2023
The general public is hereby informed that exclusive copyright
subsists in this work and therefore any attempt to reproduce,
copy, distribute to public for commercial purposes, publish any
translation of the work, make any film in respect of the work,
make an adaptation of the work, either the whole or substantial
part of the work, either in its original form or in any form
recognisably derived from the original is an infringement on the
right of the author and subject to litigation unless and except
the author has officially and clearly authorized the said person
or persons or the author is clearly acknowledged in the work.