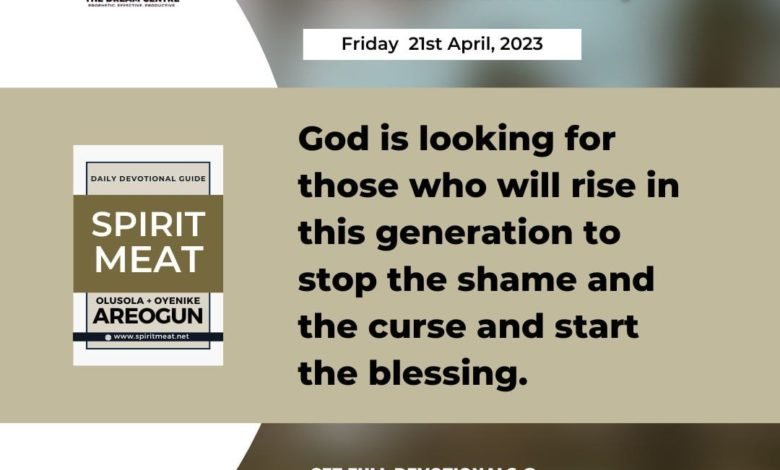 God told the devil in Genesis 3:15 that the seed of the woman shall bruise his head. "Bruise" is an old eastern word that means "break his lordship". The devil knows that the human being is going to carry an anointing that will end his dominion over man. So, he began to check out every man from Abel to Jesus and moved Cain to kill Abel.
When Jacob was going to die, he said, "…. the sceptre shall not depart from Judah…." Then, the devil moved after Judah, causing Judah to sleep with his daughter-in-law so that the plan of God could be delayed for generations while he continued to stir up evil in families to prevent the fulfilment of that prophecy. Ultimately, the prophecy was fulfilled when Jesus defeated the devil, but many are still not rising in their families to exert the victory of Jesus over the devil.
The Church is so full of people that are not preparing for destiny. God is looking for those who will rise in this generation to stop the shame and the curse and start the blessing.
Imagine someone that comes from a family where everybody struggles because their ancestors made covenants with the devil and generations of children keep paying. They are forever indebted to the devil unless someone comes to redeem them by the blood of Jesus. When the first man or woman gets born again in that generation, God's plan is redemption. Such a person cannot afford to play games in church or complain about God's demand for his training as a deliverer of his generation. However, will he accept to fight for the family?
PRAYER: Lord, I cooperate with Your plan. I will go through every righteous demand You make of me. I will fight as a deliverer for my family in Jesus' name. Amen!
BIBLE IN A YEAR:
Joshua 22:21-23:16; Luke 20:27-47; Psalm 89:14-37; Proverbs 13:17-19

(Please note that you can follow this months devotional on YouVersion's The Bible App using this link: http://bible.us/r/9XT. Thank you!) 
————————————————————
www.lifeoasisinternationalchurch.org
www.soundcloud.com/reverendareogun
www.dciradio.org
YouTube Channel- Sola Areogun Ministries
+2348037252124
#SpiritMeat
#ReverendAreogun
————————————————————

Copyright ©️ 2023
The general public is hereby informed that exclusive copyright
subsists in this work and therefore any attempt to reproduce,
copy, distribute to public for commercial purposes, publish any
translation of the work, make any film in respect of the work,
make an adaptation of the work, either the whole or substantial
part of the work, either in its original form or in any form
recognisably derived from the original is an infringement on the
right of the author and subject to litigation unless and except
the author has officially and clearly authorized the said person
or persons or the author is clearly acknowledged in the work.