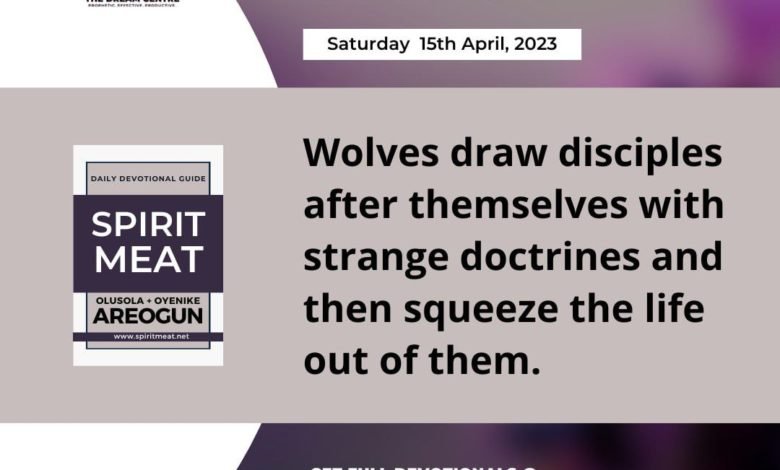 Wolves are human beings with the nature of a snake in them. They are not victims of the devil but agents of satanic entry into the sheepfold.
Wolves are impossible to shepherd because they don't come to the church to be served but to do evil.
For example, in our church at The Dream Centre, we insist that any member that wants to get into any financial interaction with another member should inform their pastor so that the pastor can tell the person whether it is safe to do so or not. This is because it is the shepherd that knows the sheep. The church is an open place where anybody can come to. Someone in the church could have the bad habit of borrowing money and being in debt to everyone everywhere. That you see people in church does not mean you know them.
Wolves are different from goats because they can harm the sheep. Wolves are the ones that want to belong to sensitive committees in the church so that they can know the inner workings of the house. Wolves draw disciples after themselves with strange doctrines and then squeeze the life out of them. They strive to isolate a sheep from its natural and spiritual family so that they can own and possess its soul. They want all the authority but none of the responsibilities.
The goal of the wolf is to scatter the church, make the shepherd look bad, cut off the people and get them into trouble. Both sheep and shepherds can pick out wolves by picking their attitude, their actions, and their condition.
PRAYER: Dear Lord, help me to guard against every operation of the wolf within the sheepfold You have placed me in Jesus' name. Amen!
BIBLE IN A YEAR:
Joshua 11:1-12:24; Luke 17:11-37; Psalm 84:1-12; Proverbs 13:5-6

(Please note that you can follow this months devotional on YouVersion's The Bible App using this link: http://bible.us/r/9XT. Thank you!) 
————————————————————
www.lifeoasisinternationalchurch.org
www.soundcloud.com/reverendareogun
www.dciradio.org
YouTube Channel- Sola Areogun Ministries
+2348037252124
#SpiritMeat
#ReverendAreogun
————————————————————

Copyright ©️ 2023
The general public is hereby informed that exclusive copyright
subsists in this work and therefore any attempt to reproduce,
copy, distribute to public for commercial purposes, publish any
translation of the work, make any film in respect of the work,
make an adaptation of the work, either the whole or substantial
part of the work, either in its original form or in any form
recognisably derived from the original is an infringement on the
right of the author and subject to litigation unless and except
the author has officially and clearly authorized the said person
or persons or the author is clearly acknowledged in the work.