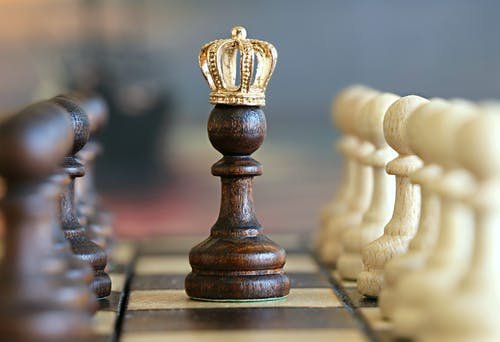 There are things in God you must hold fast till Jesus comes. What are those things?
1. Your Salvation
Don't ever let anything happen to you that makes you think twice about your commitment to Jesus as your Saviour. There will be challenges but hold fast to your salvation because the devil wants to separate you from eternal life.
Romans 8:38-39
38 For I am persuaded, that neither death, nor life, nor angels, nor principalities, nor powers, nor things present, nor things to come,
39 Nor height, nor depth, nor any other creature, shall be able to separate us from the love of God, which is in Christ Jesus our Lord.
Do you know that there are many times the devil stalks you to get your salvation from you? The devil will manipulate situations, people, and systems to get you to drop off from following Jesus.
There was a story of a woman who sought admission into the university for almost four years. Out of frustration, she told God that He failed her and backslid. The same year she chose to walk away from God was when she passed her university admission examinations and strayed so far away from God. She eventually returned to God but some people strayed the same way and never found their way back to God. Note that God has never failed anybody and He's not going to start with you. Yet the devil has lied to many Christians to make them lose their salvation.
Sometimes a loved one dies and you say, "Oh God! You failed me!" That is not true. The devil is setting you up to take salvation from you. The loss of a job, pressure to get married or pressure to have a child shouldn't take your salvation from you. Yet the devil uses these things to deceive some Christians. Hold fast to what you have. You must know what you have so the devil doesn't take it from you.
PRAYER: Lord, help me to hold fast to Your love for me. Nothing will separate me from Your love in Jesus' name. Amen!
BIBLE IN A YEAR:
1 Kings 22:1-53; Acts 13:16-41; Psalm 138:1-8; Proverbs 17:17-18
Dearly beloved,

Greetings of love in Jesus Name.

You are specially invited to PRAY, PLAN & PREPARE for the upcoming Anointed Feast Of God for mankind: ANNUAL GOD OF BREAKTHROUGHS CONVENTION & HOMECOMING (GOBC&H) 2022 with the 


Theme:

 THE END-TIME OVERCOMER


Date:

 3rd July - 10th July, 2022 (Sunday - Sunday).


Time:

 6am-8am, 8am-10am, 10am-12noon, 12noon-2pm and 4pm-9pm daily (all GMT +1).


Venue:

 The Dream Centre Of the Life Oasis International Church HQ, Km 4 Gbongan-Osogbo Expressway, Osun State, Nigeria.

Ministering: Rev. Olusola+Oyenike Areogun (Hosts) and other anointed men of God!

Enquiries: +2349079912254, +2348033879828, +2348033506866, +2347038548230

Live streaming available at:
www.lifeoasisinternationalchurch.org/streaming, www.dciradio.org and all our social media platforms.

Register at: https://lifeoasisinternationalchurch.org/gobch2022

Come, all things are yours! Come, all things are ready!

Jesus is Lord!!!