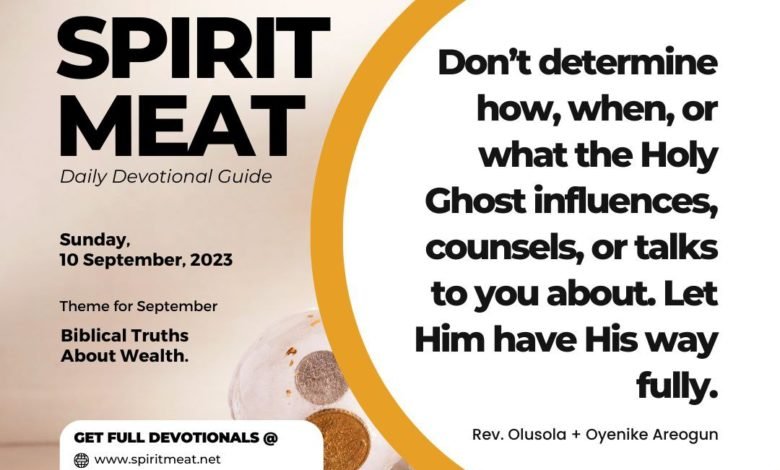 Ten people may be doing the same work but the one that carries a special anointing from the Holy Spirit will have a special result. The Holy Spirit is your advantage and He wants you to know it. The Holy Ghost told Kenneth E. Hagin, "If you follow Me, I will lead you to wealth and you will be rich." Kenneth E. Hagin followed the Holy Spirit and He led him and several other believers to great wealth. The higher forms of wealth command, control and attract the lower ones. The Holy Ghost in you can attract cash to you.
You can have the Holy Ghost without giving Him the place of a counsellor in your life. You have to give Him the place of advisor, leader, teacher, and whatever else you need Him to be in your life before you can experience Him in that capacity. God can be your Father without you experiencing Him as Father because you did not give Him the place of a Father in your affairs.
The Holy Ghost can be in you without you letting Him talk to you.
Consequently, talking of the Holy Ghost as the greatest form of wealth is about you allowing the Holy Ghost to be God inside you – allowing Him to have His way in you. He has to get involved in your life for you to experience Him as the greatest form of wealth. The Holy Ghost must not be a guest in your life. If a guest comes to your house, you determine where he can or cannot enter. Don't determine how, when, or what the Holy Ghost influences, counsels, or talks to you about. Let Him have His way fully.
PRAYER: Lord, I allow the Holy Spirit free expression in my finances. Take absolute charge in Jesus' name. Amen!
BIBLE IN A YEAR:
Isaiah 6:1-7:25; 2 Corinthians 11:16-33; Psalm 54:1-7; Proverbs 23:1-3

    
(Please note that you can follow this months devotional on YouVersion's The Bible App using this link: http://bible.us/r/AHK) 
————————————————————
www.lifeoasisinternationalchurch.org
www.soundcloud.com/reverendareogun
www.dciradio.org
YouTube Channel- Sola Areogun Ministries
+2348037252124
#SpiritMeat
#ReverendAreogun
http://bible.us/r/A6u
————————————————————

Copyright ©️ 2023
The general public is hereby informed that exclusive copyright
subsists in this work and therefore any attempt to reproduce,
copy, distribute to public for commercial purposes, publish any
translation of the work, make any film in respect of the work,
make an adaptation of the work, either the whole or substantial
part of the work, either in its original form or in any form
recognisably derived from the original is an infringement on the
right of the author and subject to litigation unless and except
the author has officially and clearly authorized the said person
or persons or the author is clearly acknowledged in the work.