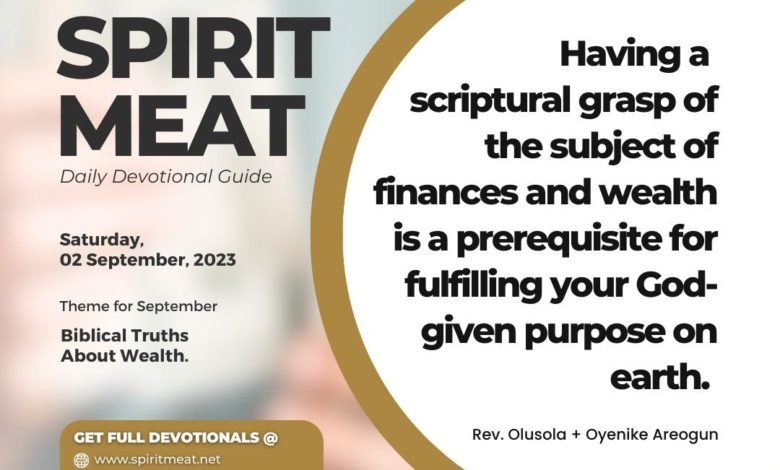 Having a scriptural grasp of the subject of finances and wealth is a prerequisite for fulfilling your God-given purpose on earth.
God has put man in a material world and wealth is a means of exchange in it. If you don't have access to wealth, there is no way you can exchange things and interact effectively in the world.
You'll only end up being pushed into a place where you narrow your options and chances to fulfil the reason God sent you to the earth.
There are some wealth forms and channels that the Bible speaks about. Knowing them will help you know what to pursue. Wealth forms refer to different forms in which wealth exists. For example, energy exists in various forms: electrical, mechanical, chemical, sound, solar, heat, light, nuclear, and so on. When you see light, you know it is light energy, and when you hear a sound, you know it is sound energy.
People understand the different forms of energy and take advantage of them. However, the majority of human beings only deal with one wealth form; cash. Since cash is the only form of wealth most people know because that is what they were taught and grew up relating with, they end up as strugglers in life. If the only form of wealth you understand is cash, you are already in a financial struggle.
There are many wealth forms and they can be classified in three ways:
1) Portable and immoveable forms of wealth;
2) Internal and external forms of wealth; and
3) Physical and spiritual forms of wealth
From tomorrow, I will deal with the specific forms of wealth.
PRAYER: Lord, I open up to all righteous forms of wealth You have provided for mankind on earth in Jesus' name. Amen!
BIBLE IN A YEAR:
Ecclesiastes 1:1-3:22; 2 Corinthians 6:1-13; Psalm 46:1-11; Proverbs 22:15

    
(Please note that you can follow this months devotional on YouVersion's The Bible App using this link: http://bible.us/r/AHK) 
————————————————————
www.lifeoasisinternationalchurch.org
www.soundcloud.com/reverendareogun
www.dciradio.org
YouTube Channel- Sola Areogun Ministries
+2348037252124
#SpiritMeat
#ReverendAreogun
http://bible.us/r/A6u
————————————————————

Copyright ©️ 2023
The general public is hereby informed that exclusive copyright
subsists in this work and therefore any attempt to reproduce,
copy, distribute to public for commercial purposes, publish any
translation of the work, make any film in respect of the work,
make an adaptation of the work, either the whole or substantial
part of the work, either in its original form or in any form
recognisably derived from the original is an infringement on the
right of the author and subject to litigation unless and except
the author has officially and clearly authorized the said person
or persons or the author is clearly acknowledged in the work.