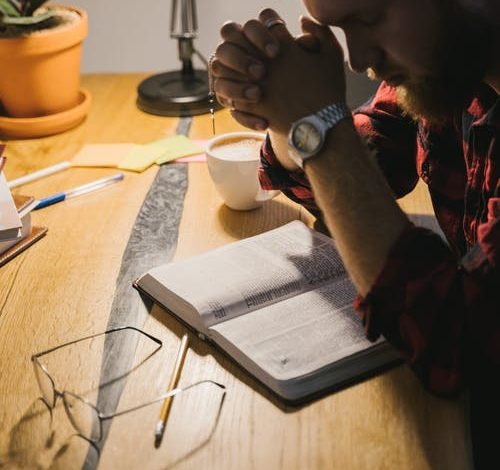 Man is a spirit that has a soul and lives in a body. You must feed your spirit with the right substance to be effective as an intercessor. Real food that feeds your body is nutritious, but snacks deceive your appetite. The fact that your hunger is quenched does not mean your body has been nourished.
You are to feed your soul with healthy information but the deception that wastes your time is entertainment.
You can spend an hour on quality materials that will enable you to handle life more effectively, but you can also use the same hour to watch things that will pollute your mind.
For your spirit, the Word of God and fellowship with God are the real food. However, the devil uses religious activities to deceive the spirit. Some people find more fulfilment in engaging in religious activities instead of sitting down to feed and meditate on God's Word. Greeting the pastor, buying flowers for the altar, or going for choir rehearsals are all activities which are not wrong but will not feed your spirit.
The Word of God is the food that feeds your spirit. If you read only one verse in six months, that is the rate you are eating. If you get before the Lord and all you do is sing sorrowful songs for five minutes, you may get up and feel high like you have done something, but your spirit is leaner, and you have also expended some of the strength you have in the body. After all the singing, please sit down and feed your spirit with the Word of God!
PRAYER: I am deciding today to daily feed my spirit man with the Word of God to become an effective intercessor. So, help me, God. Amen!
BIBLE IN A YEAR:
Ezekiel 16:42-17:24; Hebrews 8:1-13; Psalm 106:13-31; Proverbs 27:7-9
————————————————————
www.lifeoasisinternationalchurch.org
www.soundcloud.com/reverendareogun
www.dciradio.org
YouTube Channel- Sola Areogun Ministries
+2348037252124
#SpiritMeat
#ReverendAreogun
————————————————————

Copyright ©️ 2022
The general public is hereby informed that exclusive copyright subsists in this work and therefore any attempt to reproduce, copy, distribute to public for commercial purposes, publish any translation of the work, make any film in respect of the work, make an adaptation of the work, either the whole or substantial part of the work, either in its original form or in any form recognisably derived from the original is an infringement on the right of the author and subject to litigation unless and except the author has officially and clearly authorised the said person or persons or the author is clearly acknowledged in the work.