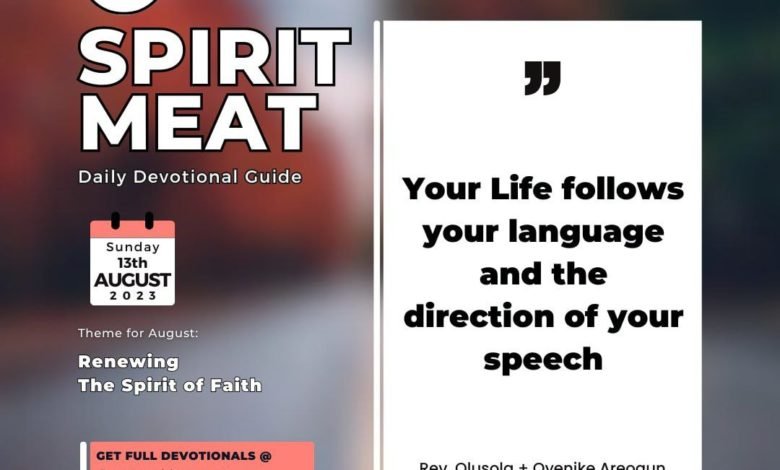 One way to go as a Christian is to understand the language that must be in your mouth. Your life follows your language and your life goes in the direction of your speech. If you are sick, it's because sickness is part of your vocabulary. Three levels of language will develop your faith as a Christian: "I am", "I have", and "I can". These three levels describe the totality of what happened to you when you made Jesus your Lord and Saviour. For example, 1 Peter 2:24 says, "By whose stripes ye were healed." What do you say? I am healed. You need to familiarise yourself with the "I am" statements in Christ.
According to 2 Corinthians 4:13, what do you have as a born-again person? You have the spirit of faith. 
If you know you have the spirit of faith, it will affect the way you talk.
The spirit you have is not a spirit of fear or doubt. So, if you are in doubt, you are destroying the spirit of faith in you. You have a spirit that can believe God; it's not that you are trying to have this spirit, you already have it at the new birth.
"I can" is another powerful language of faith. You can do certain things now because of what happened to you at the new birth. Being born again is a definite experience of transformation and transfiguration. As definite as the birth of a baby, your spirit was born into the family of God with the life of God inside you, and that spirit can now do things you couldn't do before.
PRAYER: I can do all things through Christ Jesus who strengthens me. Amen!
BIBLE IN A YEAR:
Nehemiah 5:14-7:73a; 1 Corinthians 8:1-13; Psalm 33:1-11; Proverbs 21:8-10

    
(Please note that you can follow this months devotional on YouVersion's The Bible App using this link: http://bible.us/r/A6u) 
————————————————————
www.lifeoasisinternationalchurch.org
www.soundcloud.com/reverendareogun
www.dciradio.org
YouTube Channel- Sola Areogun Ministries
+2348037252124
#SpiritMeat
#ReverendAreogun
http://bible.us/r/A6u
————————————————————

Copyright ©️ 2023
The general public is hereby informed that exclusive copyright
subsists in this work and therefore any attempt to reproduce,
copy, distribute to public for commercial purposes, publish any
translation of the work, make any film in respect of the work,
make an adaptation of the work, either the whole or substantial
part of the work, either in its original form or in any form
recognisably derived from the original is an infringement on the
right of the author and subject to litigation unless and except
the author has officially and clearly authorized the said person
or persons or the author is clearly acknowledged in the work.