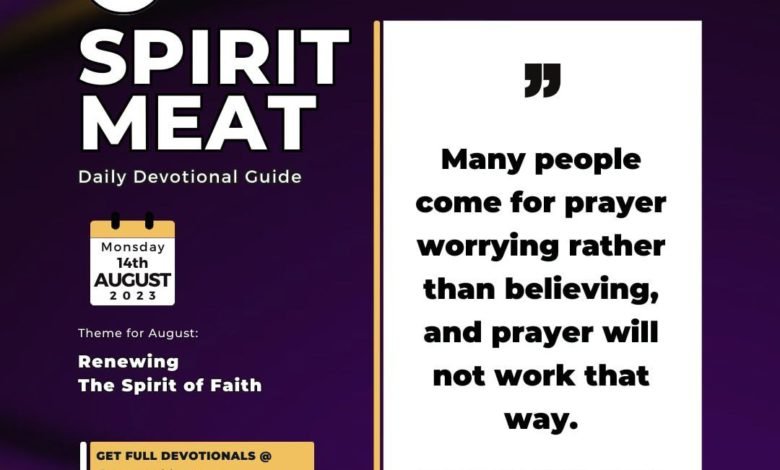 God cannot work in an atmosphere of worry or doubt. Worry can do nothing except kill you before your time. The issue that looks so big to you now is a tiny matter to God. Imagine someone has a prognosis of an incurable disease. Worrying is not going to remove it except contributing to killing the person even quicker. When medical science has come to its wit's end and the disease can't be removed, such a person should find something that can remove it, which is the word of God, and that is where God comes in. Many people come for prayer worrying rather than believing, and prayer will not work that way. 
God does not want His children to come into His presence with worry because that will hinder Him from working on their case.
When you find yourself in a situation where there's nothing else you can do, that is when you should go to sleep. Even when you feel no one knows what you are going through, there is a God that knows, and He can send someone to help you. But God won't help you when you are worried because worrying means you are telling God, "I am still working on it." And God would likely reply, "When you are through, let Me know because two of us can't work on a case at the same time." You will only struggle when you take the case from His hand. Hand it over to Him now!
PRAYER: Father, I receive grace to put my absolute trust in You alone. Amen!
BIBLE IN A YEAR:
Nehemiah 7:73-9:21; 1 Corinthians 9:1-18; Psalm 33:12-22; Proverbs 21:11-12

    
(Please note that you can follow this months devotional on YouVersion's The Bible App using this link: http://bible.us/r/A6u) 
————————————————————
www.lifeoasisinternationalchurch.org
www.soundcloud.com/reverendareogun
www.dciradio.org
YouTube Channel- Sola Areogun Ministries
+2348037252124
#SpiritMeat
#ReverendAreogun
http://bible.us/r/A6u
————————————————————

Copyright ©️ 2023
The general public is hereby informed that exclusive copyright
subsists in this work and therefore any attempt to reproduce,
copy, distribute to public for commercial purposes, publish any
translation of the work, make any film in respect of the work,
make an adaptation of the work, either the whole or substantial
part of the work, either in its original form or in any form
recognisably derived from the original is an infringement on the
right of the author and subject to litigation unless and except
the author has officially and clearly authorized the said person
or persons or the author is clearly acknowledged in the work.