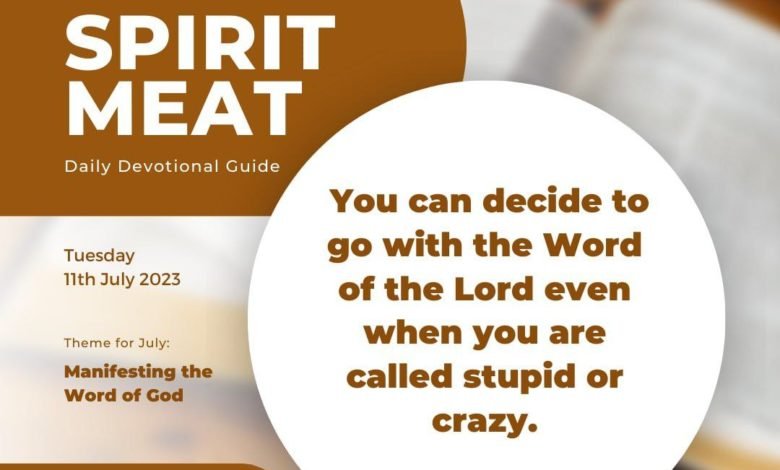 When a doctor says to a patient, "Despite the fact that you are feeling good, our tests tell us you have a dangerous condition in your body, and we have to admit you immediately." Will you say that the doctor is crazy or stupid? No, you accept his judgment because he's a doctor. Why then do you doubt God when His Word tells you that angels are with you (Psa. 91:11) and no weapon that is formed against you shall prosper (Isa. 54:17a)?
Your feeling may contradict what the doctor is telling you, but you would accept the doctor's conclusion on your need to be admitted immediately. You should also be able to say, "According to the Word of God, I am healed by the stripes of Jesus despite that I am feeling this way (Isa. 53:3)."
You can decide to go with the Word of the Lord even when you are called stupid or crazy.
Just as you have no physical, observable evidence, the doctor also has no such evidence. However, most people judge the education and tools of a doctor as legitimate bases to believe what he says but struggle to extend the same thinking to the Divinity of God and the supremacy of His Word. Know that the education of the fallible doctor cannot equal the Divinity of God Almighty!
The Bible is more accurate than any doctor's stethoscope. The Bible is more current and more precise than any report or research findings. Whose report will you believe? Many choose to believe the reports of fallible men like themselves but doubt the report of the Almighty God that is infallible.

ACTION: Decide today to always take God at His Word. List out three things you are trusting God for and meditate upon God's promises on those things.
BIBLE IN A YEAR:
1 Chronicles 11:1-12:18; Acts 28:1-31; Psalm 9:1-12; Proverbs 19:1-3

    
(Please note that you can follow this months devotional on YouVersion's The Bible App using this link: http://bible.us/r/9y3. Thank you!) 
————————————————————
www.lifeoasisinternationalchurch.org
www.soundcloud.com/reverendareogun
www.dciradio.org
YouTube Channel- Sola Areogun Ministries
+2348037252124
#SpiritMeat
#ReverendAreogun
————————————————————

Copyright ©️ 2023
The general public is hereby informed that exclusive copyright
subsists in this work and therefore any attempt to reproduce,
copy, distribute to public for commercial purposes, publish any
translation of the work, make any film in respect of the work,
make an adaptation of the work, either the whole or substantial
part of the work, either in its original form or in any form
recognisably derived from the original is an infringement on the
right of the author and subject to litigation unless and except
the author has officially and clearly authorized the said person
or persons or the author is clearly acknowledged in the work.