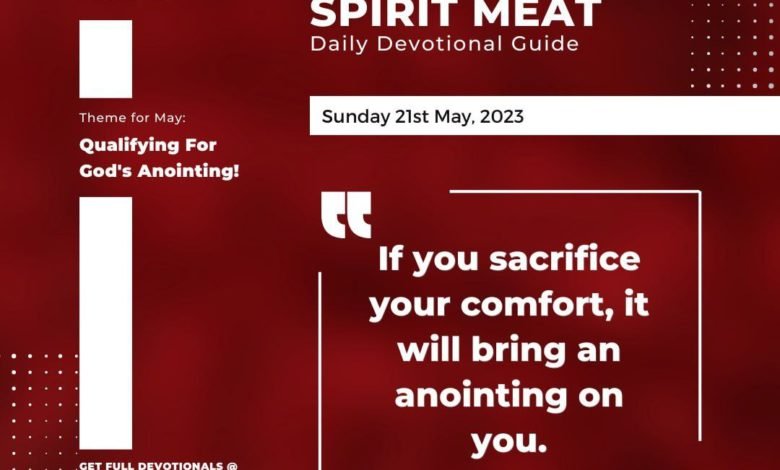 God also anoints right sacrifices. Paul said the things that were gain to him, he counted them loss so that he could win Christ. The sacrifice could be the sacrifice of your time. God can wake you up in the night and say, "I want you to spend the next three hours praying." If you sacrifice your comfort, it will bring an anointing on you.
Have you read some of the songs in the Songs of Praise (S.O.P.) hymn book? Songs like "Blessed assurance, Jesus is mine" and "To God be the glory great things He hath done". If you listen to these hymns, you will know that the writers knew God and the Bible. They didn't just start singing or writing songs, but their songs were a product of their intimate walk with God. Look at the church today and our songs! They are so shallow! This is because every other ministry follows the ministry of the Word in every generation.
If you are gifted and called and you follow the ministry of the Word that is shallow, your gift will operate in shallow waters.
You cannot compare the hymns that Charles Wesley composed sitting under the sermons of his brother, John Wesley, to the songs that we have in the church today. Secular music has been imported into the church and is being branded as gospel music. At the end of the ministration of those genuinely called into the gospel ministry as singers, yokes should have been destroyed, captives set free, bondage broken, the sick healed, and burdens lifted.
PRAYER: Father, I will not make foolish sacrifices that will produce shallow waters in my destiny. Holy Spirit, help me to respond well to divine signals and communications to make the right sacrifices that will birth great spiritual substance in Jesus' name. Amen!
BIBLE IN A YEAR:
1 Samuel 29:1-31:13; John 11:55-12:19; Psalm 118:1-18; Proverbs 15:24-26
    
(Please note that you can follow this months devotional on YouVersion's The Bible App using this link: http://bible.us/r/9XT. Thank you!) 
========================
Beloved Woman of God,
Greetings of love in Jesus name!
WOMEN IN FRONT IN ZION 2023 is here again! It is God's special feast for all the wives of Heads of Christian ministries!
Theme: ADAPTATION POWER
Date: 2nd – 3rd June, 2023
Time: 12 noon on Friday through to 7am on Saturday!
Venue: Dream Centre of the Life Oasis International Church Headquarters, Osogbo, Osun State.
Registration: https://solaareogunministries.org/wifizion
For further enquiries: +234 805 953 3180, +234 907 991 2254
THE SPIRIT AND THE BRIDE SAY, "COME!"
See you there!
You are blessed!
Rev Oyenike Areogun
————————————————————
www.lifeoasisinternationalchurch.org
www.soundcloud.com/reverendareogun
www.dciradio.org
YouTube Channel- Sola Areogun Ministries
+2348037252124
#SpiritMeat
#ReverendAreogun
————————————————————

Copyright ©️ 2023
The general public is hereby informed that exclusive copyright
subsists in this work and therefore any attempt to reproduce,
copy, distribute to public for commercial purposes, publish any
translation of the work, make any film in respect of the work,
make an adaptation of the work, either the whole or substantial
part of the work, either in its original form or in any form
recognisably derived from the original is an infringement on the
right of the author and subject to litigation unless and except
the author has officially and clearly authorized the said person
or persons or the author is clearly acknowledged in the work.