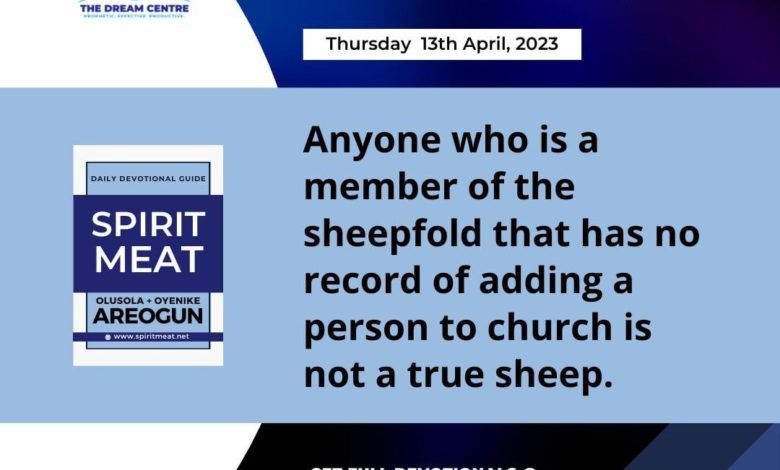 Today, we will be looking at additional characteristics of a true sheep within a sheepfold.
(4) They want to be shepherded: True sheep long to be shepherded because they enjoy it. Goats do not care about being under shepherding because they do not enjoy it.
(5) They love to lie down in green pastures: Green pastures represent the ministrations of their God-given pastor. Goats are just passing through. Goats do not want to lie down. They just want to eat the green pasture as much as they can and move somewhere else.
(6) They never miss feeding time: True sheep are tractable creatures. They are never gallivanting around or distracted when feeding is going on. They are never in a hurry when eating; they stay as long as it takes until the service ends. They enjoy listening to their pastor preach.
(7) The sheep produce other sheep:
Anyone who is a member of the sheepfold that has no record of adding a person to church is not a true sheep. Such a sheep is not committed to the church and is only interested in taking from the church.
(8) Sheep love to be sheared: If the shepherd does not lovingly shear the wool on a sheep, the sheep becomes hooked whenever he goes around in the bush, as the wool becomes what twigs and leeches can latch onto to make the sheep unable to move or even make the sheep sick.
(9) They follow leader-sheep: One of the greatest traits of sheep is that they know their leader and follow him. They not only follow, but they follow to imitate him.
PRAYER: Dear Lord, give me the heart and nature of a true sheep within the sheepfold You have placed me in Jesus' name. Amen!
BIBLE IN A YEAR:
Joshua 7:16-9:2; Luke 16:1-18; Psalm 82:1-8; Proverbs 13:2-3

(Please note that you can follow this months devotional on YouVersion's The Bible App using this link: http://bible.us/r/9XT. Thank you!) 
————————————————————
www.lifeoasisinternationalchurch.org
www.soundcloud.com/reverendareogun
www.dciradio.org
YouTube Channel- Sola Areogun Ministries
+2348037252124
#SpiritMeat
#ReverendAreogun
————————————————————

Copyright ©️ 2023
The general public is hereby informed that exclusive copyright
subsists in this work and therefore any attempt to reproduce,
copy, distribute to public for commercial purposes, publish any
translation of the work, make any film in respect of the work,
make an adaptation of the work, either the whole or substantial
part of the work, either in its original form or in any form
recognisably derived from the original is an infringement on the
right of the author and subject to litigation unless and except
the author has officially and clearly authorized the said person
or persons or the author is clearly acknowledged in the work.