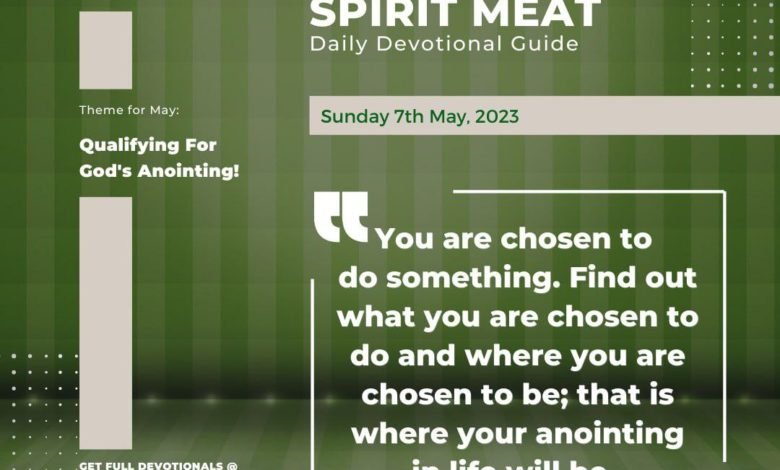 Don't let success deceive you that everything you do is correct. Even though David had the heart to build a temple for God and Nathan had permitted him to proceed, God told Nathan thereafter to go and tell David that he had shed too much blood and should not build the house for Him (1 Chr. 28:1-7). Instead, God said He would give David a son, a man of peace, whom He had chosen, and would bless him to build the house for Him. There was no house in any kingdom on earth that could compare to the house that Solomon built for God. It was so easy because he was chosen to do it.
David prepared but he was not chosen. You may have the materials, but you may not be chosen to do it. That's where the anointing comes in. The Pharisees asked Jesus where He got His learning. Jesus didn't go to their school, but He was chosen to be the Messiah.
You are chosen to do something. Find out what you are chosen to do and find out where you are chosen to be; that is where your anointing in life will be.
The wife is not chosen to be the head of a home, it is the husband. So, the wife should not struggle to be the head but allow the husband to be the head. She should put all her wisdom, skills, and ability under her husband and make him a fantastic head, and God will honour her for it. Wives should stop upstaging their husbands.
God anoints His choice. In fact, when we argue against the choice of God, we are calling the wisdom of God to question. God chooses some people to stand in some offices and we must respond to them. In Acts chapter 6 verse 3, the Bible says, "…look ye out among you seven men of honest report… whom we may appoint over this business." and they brought them before the Apostles. These men were chosen, and the Bible says the Holy Ghost came upon them when the Apostles laid their hands upon them.
PRAYER: Lord, I pray for eyes to see and heart to understand what You have chosen me for, and I receive grace to function there under the anointing in Jesus' name. Amen!
BIBLE IN A YEAR:
1 Samuel 1:1-2:21; John 5:1-23; Psalm 105:37-45; Proverbs 14:28-29
    
(Please note that you can follow this months devotional on YouVersion's The Bible App using this link: http://bible.us/r/9XT. Thank you!) 
————————————————————
www.lifeoasisinternationalchurch.org
www.soundcloud.com/reverendareogun
www.dciradio.org
YouTube Channel- Sola Areogun Ministries
+2348037252124
#SpiritMeat
#ReverendAreogun
————————————————————

Copyright ©️ 2023
The general public is hereby informed that exclusive copyright
subsists in this work and therefore any attempt to reproduce,
copy, distribute to public for commercial purposes, publish any
translation of the work, make any film in respect of the work,
make an adaptation of the work, either the whole or substantial
part of the work, either in its original form or in any form
recognisably derived from the original is an infringement on the
right of the author and subject to litigation unless and except
the author has officially and clearly authorized the said person
or persons or the author is clearly acknowledged in the work.