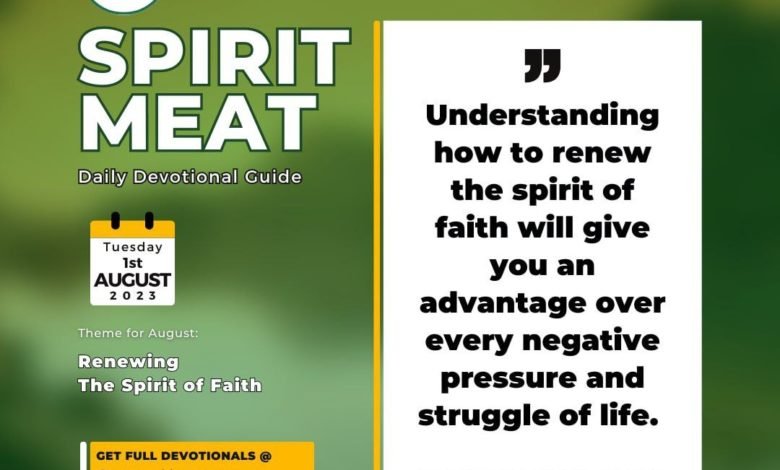 LWelcome to August! We will be going on a "Faith Renewal Journey" for the next 31 days. Our attention will be on RENEWING THE SPIRIT OF FAITH.
2 Corinthians 4:13 says, "We having the same spirit of faith, according as it is written, I believed, and therefore have I spoken; we also believe, and therefore speak;"
If you are born again, you are not ordinary because you have that same spirit of faith. The devil wants to bring you to a position where he can weaken that faith. His goal is to make the spirit of faith in you stale, stiff, or starved. That same spirit of faith that made David overcome Goliath is in you.
Joseph had so many struggles and was a three-times-sold slave in a strange land. He had that same spirit of faith, and in the space of 13 years, he became the prime minister in a strange land. You have that same spirit of faith.
Renewing that spirit of faith must be your goal for you to have a better outcome in life.
Faith is a supernatural force that connects you to the power of God, and the understanding of how to renew the spirit of faith will give you an advantage over every negative pressure and struggle of life. Hold on to the word of God, put His promises in your mouth, and internalise the language of faith. Your outcome in life will not be normal.
PRAYER: Lord, renew the spirit of faith in me. I receive faith revival and faith renewal through Your word daily in Jesus' name. Amen!
BIBLE IN A YEAR:
2 Chronicles 30:1-31:21; Romans 15:1-22; Psalm 25:1-15; Proverbs 20:13-15

    
(Please note that you can follow this months devotional on YouVersion's The Bible App using this link: http://bible.us/r/A6u :Thank you!) 
————————————————————
www.lifeoasisinternationalchurch.org
www.soundcloud.com/reverendareogun
www.dciradio.org
YouTube Channel- Sola Areogun Ministries
+2348037252124
#SpiritMeat
#ReverendAreogun
http://bible.us/r/A6u
————————————————————

Copyright ©️ 2023
The general public is hereby informed that exclusive copyright
subsists in this work and therefore any attempt to reproduce,
copy, distribute to public for commercial purposes, publish any
translation of the work, make any film in respect of the work,
make an adaptation of the work, either the whole or substantial
part of the work, either in its original form or in any form
recognisably derived from the original is an infringement on the
right of the author and subject to litigation unless and except
the author has officially and clearly authorized the said person
or persons or the author is clearly acknowledged in the work.