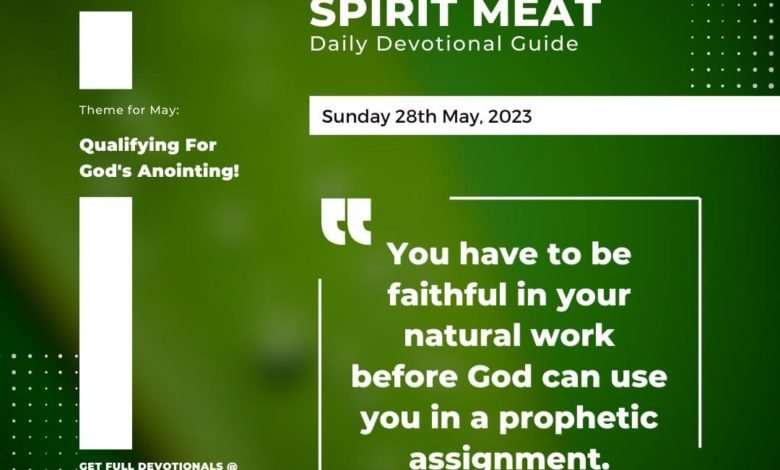 There are three tests of faithfulness: faithfulness in little things, faithfulness in another man's things, and faithfulness in money. Do you refuse to fetch water for your parents but want God to use you in diverse gifts of the Spirit? You are to first be faithful in that natural work and then God will use you in that prophetic assignment.
David was faithful in keeping his father's sheep. God saw a boy that was not a soldier, didn't carry weapons, but was so faithful over the sheep when the lion came that he resolved not to lose any of his father's sheep. He fought the lion with the spirit of faithfulness and took the lamb from the mouth of the lion. He also fought a bear. Then he went ahead to confront and kill Goliath (1 Sam. 16:34-51). God noted it all and thought, "If he could risk his life for the sheep, he wouldn't hesitate to do the same for God's people if he became king."
Elisha was faithful in washing the clothes of Elijah, pouring water on his hands (2 Kin. 3:11-12). The sons of the prophet did not do anything of such. Instead, they went about boasting that they were the sons of the prophet and collecting prophets' offerings (2 Kin. 2:5). When the time came for the double portion of the anointing, God gave it to Elisha who was doing the so-called menial jobs (2 Kin. 2:15).
Are you faithful to the gift that God has given you? Are you faithful to the children God has entrusted you with? Are you faithful to the wife or the husband God has given you?
Be faithful!
PRAYER: Holy Spirit my Parakletos, help me not to fail the test of God in Jesus' name. Amen!
BIBLE IN A YEAR:
2 Samuel 13:1-39; John 17:1-26; Psalm 119:81-96; Proverbs 16:6-7
    
(Please note that you can follow this months devotional on YouVersion's The Bible App using this link: http://bible.us/r/9XT. Thank you!) 
========================
Beloved Woman of God,
Greetings of love in Jesus name!
WOMEN IN FRONT IN ZION 2023 is here again! It is God's special feast for all the wives of Heads of Christian ministries!
Theme: ADAPTATION POWER
Date: 2nd – 3rd June, 2023
Time: 12 noon on Friday through to 7am on Saturday!
Venue: Dream Centre of the Life Oasis International Church Headquarters, Osogbo, Osun State.
Registration: https://solaareogunministries.org/wifizion
For further enquiries: +234 805 953 3180, +234 907 991 2254
THE SPIRIT AND THE BRIDE SAY, "COME!"
See you there!
You are blessed!
Rev Oyenike Areogun
————————————————————
www.lifeoasisinternationalchurch.org
www.soundcloud.com/reverendareogun
www.dciradio.org
YouTube Channel- Sola Areogun Ministries
+2348037252124
#SpiritMeat
#ReverendAreogun
————————————————————

Copyright ©️ 2023
The general public is hereby informed that exclusive copyright
subsists in this work and therefore any attempt to reproduce,
copy, distribute to public for commercial purposes, publish any
translation of the work, make any film in respect of the work,
make an adaptation of the work, either the whole or substantial
part of the work, either in its original form or in any form
recognisably derived from the original is an infringement on the
right of the author and subject to litigation unless and except
the author has officially and clearly authorized the said person
or persons or the author is clearly acknowledged in the work.