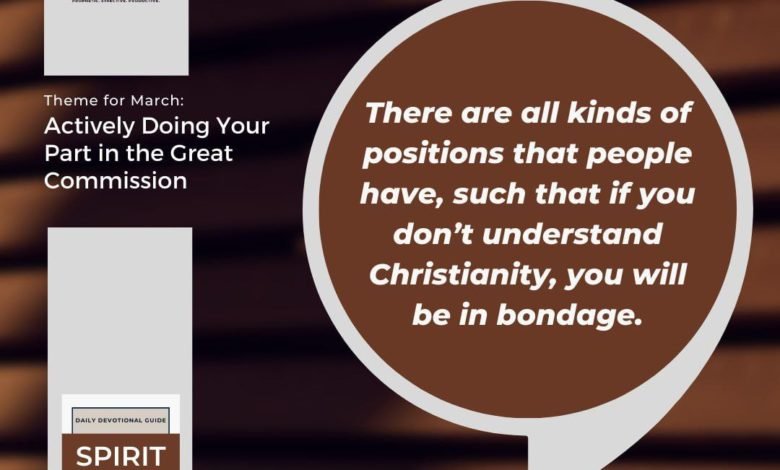 Today, I'll share with you about being sound in Bible doctrines which is one of the critical areas of life where you need correct understanding. Years ago, a female medical doctor shared her testimony with me. She was a Christian medical doctor who was not enjoying her Christianity. She had on her head, tiny braids with some hair extensions which was a new fashion at that time. Some people then thought that anyone with such a hairstyle was not born again just like some nowadays think that anyone that applies relaxer to their hair is not born again.
There are all kinds of positions that people have, such that if you don't understand Christianity, you will be in bondage.
That woman wanted to be baptised in the Holy Spirit, but she was told that she could not receive baptism because of her hair. She was confused, then she heard me preach. She came to see me in the office, and I asked her, "Why do you make your hair like that?" She said, "I'm a young mother, I have children and a husband to take care of, I have medical exams to write, and I have a job too. If I make my hair like that, I can keep it for about two months." I said, "You are in good order, lady. Receive the Holy Spirit baptism in Jesus' name. Now open your mouth and begin to speak in tongues." She immediately started speaking in tongues and then stopped. I asked, "Why did you stop?" She asked, "Is that the real Holy Ghost?" She had been indoctrinated wrongly but as soon as she gained understanding, her faith was released.
PRAYER: Lord, I receive the help of the Holy Spirit to pursue sound doctrine in the name of Jesus. Amen!
BIBLE IN A YEAR:
Numbers 8:1-9:23; Mark 13:14-37; Psalm 50:1-23; Proverbs 10:29-30

(Please note that you can follow this months devotional on YouVersion's The Bible App using this link: http://bible.us/r/9Mp. Thank you!) 
Beloved Woman of God,
Greetings of love in Jesus name!
WOMEN IN FRONT IN ZION 2023 is here again! It is God's special feast for all the wives of Heads of Christian ministries!
Theme: Adaptation Power
Date: 17th – 18th March, 2023
Time: From 12 noon on Friday through to 7am on Saturday!
The venue is the Dream Centre of the Life Oasis International Church Headquarters, Osogbo, Osun State.
Registration link:
https://solaareogunministries.org/wifizion/
For further enquiries:
Call these lines
+234 805 953 3180
+234 907 991 2254
THE SPIRIT AND THE BRIDE SAY, "COME!"
See you there!
You are blessed!
Rev Oyenike Areogun
————————————————————
www.lifeoasisinternationalchurch.org
www.soundcloud.com/reverendareogun
www.dciradio.org
YouTube Channel- Sola Areogun Ministries
+2348037252124
#SpiritMeat
#ReverendAreogun
————————————————————

Copyright ©️ 2023
The general public is hereby informed that exclusive copyright
subsists in this work and therefore any attempt to reproduce,
copy, distribute to public for commercial purposes, publish any
translation of the work, make any film in respect of the work,
make an adaptation of the work, either the whole or substantial
part of the work, either in its original form or in any form
recognisably derived from the original is an infringement on the
right of the author and subject to litigation unless and except
the author has officially and clearly authorized the said person
or persons or the author is clearly acknowledged in the work.