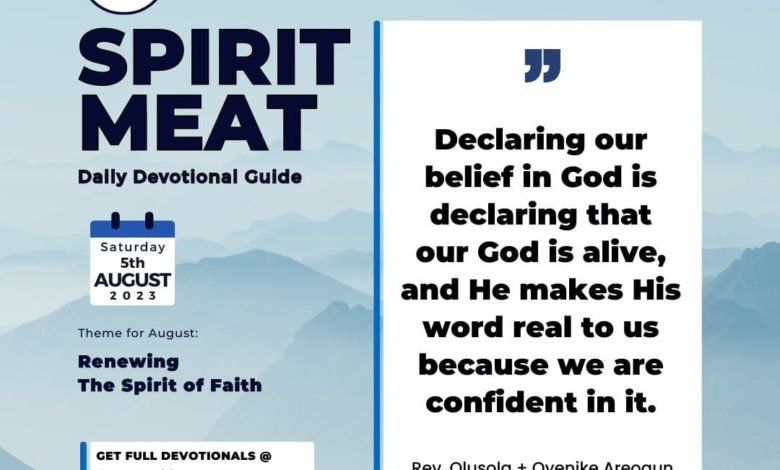 God gave us faith, and we have the spirit of faith that speaks, sees, works and behaves in a certain way that is pleasing to God. A father is happy with a child who does everything he wants. This applies to our relationship with God too. God is happy when we live by faith. God is happy with us when we say what we believe and not what we can see. Declaring our belief in God is declaring that our God is alive and He makes His word real to us because we are confident in it.
1 John 5:18
18 We know that whosoever is born of God sinneth not; but he that is begotten of God keepeth himself, and that wicked one toucheth him not.
Who is the begotten of God? It is the born-again, blood-washed child of God. Is the wicked one touching people in the world? Yes! However, what does the Bible say you should do as a Christian? You should keep yourself so that the wicked one does not touch you.
When you want to cross a road where cars are plying, if you walk across without looking and get hit by a car, it will be your fault, not the car's. However, if you stop after spotting an oncoming vehicle or truck, you've kept yourself from the path of the vehicle. 
Without faith, we cannot walk with God.
When God is connecting a new generation to the God of the previous generation, He renews the spirit of faith in them. The God of David is your God. David wrote in Psalm 48:14, "For this God is our God". The same God that was with David and made him what he became is our God.
PRAYER: Lord, help me to stay in faith so that the wicked one does not touch me. Amen!
BIBLE IN A YEAR:
Ezra 1:1-2:70; 1 Corinthians 1:18-2:5; Psalm 27:7-14; Proverbs 20:22-23

    
(Please note that you can follow this months devotional on YouVersion's The Bible App using this link: http://bible.us/r/A6u :Thank you!) 
————————————————————
www.lifeoasisinternationalchurch.org
www.soundcloud.com/reverendareogun
www.dciradio.org
YouTube Channel- Sola Areogun Ministries
+2348037252124
#SpiritMeat
#ReverendAreogun
http://bible.us/r/A6u
————————————————————

Copyright ©️ 2023
The general public is hereby informed that exclusive copyright
subsists in this work and therefore any attempt to reproduce,
copy, distribute to public for commercial purposes, publish any
translation of the work, make any film in respect of the work,
make an adaptation of the work, either the whole or substantial
part of the work, either in its original form or in any form
recognisably derived from the original is an infringement on the
right of the author and subject to litigation unless and except
the author has officially and clearly authorized the said person
or persons or the author is clearly acknowledged in the work.