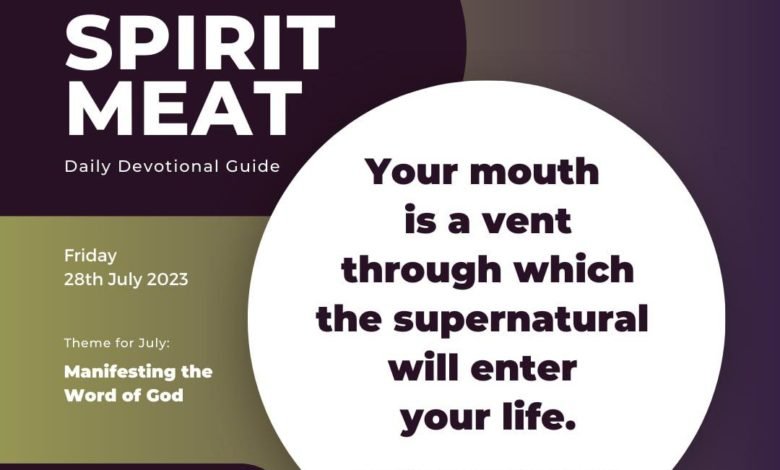 Your mouth is a vent through which the supernatural will enter your life. Your mouth is critical because it gives the spirit inside you an opening to get into your life. Every time you open your mouth, you release God, Satan, angels, or demons to operate. Ultimately, you choose with your mouth!
Mary said, "Be it unto me according to thy word (Luk. 1:38)," and that happened. The angel had to tell Zacharias (the father of John the Baptist), "Thou shalt be dumb, and not able to speak, until the day that these things shall be performed… (Luk. 1:20)" because if he continued speaking the way he was speaking, he would stop the miracle God was bringing for him.
When you put the Word of God in your mouth, you close the door to the negative supernatural and open the door to the positive divine supernatural.
The devil will always seek to take the Word of God from your mouth and put something else there. Remember, every time you open your mouth, you are opening the door to the supernatural.
If you ever found yourself saying "I don't know what is going to happen to me", you have opened a door in the spirit. Similarly, when you say, "We don't know where the government is taking us"- you have opened a door in the spirit. The Bible did not say the government is our shepherd. It says, "The Lord is my shepherd; I shall not want (Psa. 23:1)."
PRAYER: Lord, as I open my mouth today, I release the operations of God and angels into my life and this situation (mention the situation). I align with the diving supernatural every day of my life in Jesus' name! Amen.
BIBLE IN A YEAR:
2 Chronicles 21:1-23:21; Romans 11:13-36; Psalm 22:1-18; Proverbs 20:7

    
(Please note that you can follow this months devotional on YouVersion's The Bible App using this link: http://bible.us/r/9y3. Thank you!) 
————————————————————
www.lifeoasisinternationalchurch.org
www.soundcloud.com/reverendareogun
www.dciradio.org
YouTube Channel- Sola Areogun Ministries
+2348037252124
#SpiritMeat
#ReverendAreogun
————————————————————

Copyright ©️ 2023
The general public is hereby informed that exclusive copyright
subsists in this work and therefore any attempt to reproduce,
copy, distribute to public for commercial purposes, publish any
translation of the work, make any film in respect of the work,
make an adaptation of the work, either the whole or substantial
part of the work, either in its original form or in any form
recognisably derived from the original is an infringement on the
right of the author and subject to litigation unless and except
the author has officially and clearly authorized the said person
or persons or the author is clearly acknowledged in the work.