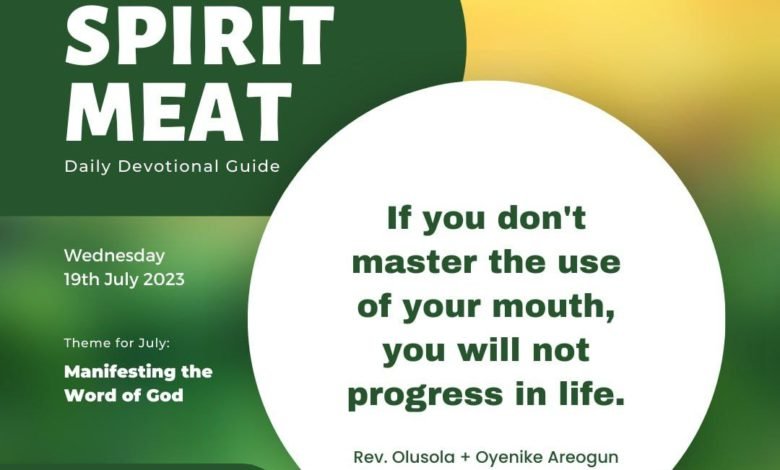 James 3:1-2
1 My brethren, be not many masters, knowing that we shall receive the greater condemnation.
2 For in many things we offend all. If any man offend not in word, the same is a perfect man, and able also to bridle the whole body.
We established earlier that the word "perfect" does not mean "without fault". Rather, it means mature, experienced, and mastering the life process. So, that verse says, "…the same is a mature man, a master, and able (that is, has the ability also) to bridle the whole body". Now, the word "bridle" means to bring under control by force. The word "bridle" is the headgear used to control a horse, consisting of buckled straps to which a bit and reins are attached. You can see the power of words right from this passage. If a man stumbles not in words, the same is a mature man, a great and experienced man.
If you don't master the use of your mouth, you will not progress in life.
You should not get married until you master the use of your mouth because you are going to kill your children. Without the mastery of your mouth, you are susceptible to danger as you advance in life. Your words give order in the spirit realm. The spouse who says to his/her partner, "One day, God will deliver me from you one day" will fall victim to the devil one day.
Allow people that know the truth to correct your mouth until you master it. The fact that you are an adult in physical life does not mean you are an adult in confession life. Most people do not practise confession well because they are acting from their memory. Take practical steps to apply your words correctly by using the Bible. Have a book of confession and confess the Word constantly, actually, and verbally.
PRAYER: Father, I thank You for the ability and grace to bridle my tongue. I will no longer use it against my life and destiny in Jesus' name. Amen!
BIBLE IN A YEAR:
1 Chronicles 28:1-29:30; Romans 5:6-21; Psalm 15:1-5; Proverbs 19:18-19

    
(Please note that you can follow this months devotional on YouVersion's The Bible App using this link: http://bible.us/r/9y3. Thank you!) 
————————————————————
www.lifeoasisinternationalchurch.org
www.soundcloud.com/reverendareogun
www.dciradio.org
YouTube Channel- Sola Areogun Ministries
+2348037252124
#SpiritMeat
#ReverendAreogun
————————————————————

Copyright ©️ 2023
The general public is hereby informed that exclusive copyright
subsists in this work and therefore any attempt to reproduce,
copy, distribute to public for commercial purposes, publish any
translation of the work, make any film in respect of the work,
make an adaptation of the work, either the whole or substantial
part of the work, either in its original form or in any form
recognisably derived from the original is an infringement on the
right of the author and subject to litigation unless and except
the author has officially and clearly authorized the said person
or persons or the author is clearly acknowledged in the work.